Hothead Games has announced the release of Penny Arcade Adventures: On the Rain-Slick Precipice of Darkness, Episode Two. It's available for Mac OS X, Windows and Linux platforms and costs $14.95. A demo version is available.
The new game is the second installment of an episodic game series featuring characters and situations from Penny Arcade, the popular webcomic created by Jerry Holkins and Mike Krahulik. You join Penny Arcade's main characters, Gabe and Tycho, in an alternate world called New Arcadia that's part steampunk post-Victorian fantasy, part H.P. Lovecraft nightmare.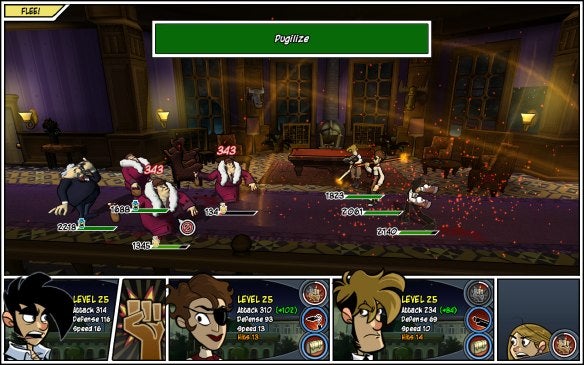 The game, which is role playing adventure title featuring turn-based combat, features new characters and some old favorites returning from the webcomic, as drawn by Mike Krahulik, with dialogue written by Jerry Holkins. You can either reuse the character you created for Episode One, or, if you're new to the series (or bored with your previous avatar), jump in with a brand new character.
Hothead Games, which also developed the title for Xbox 360, says that players can expect roughly six to ten hours of game play as the explore the world. The game is available for download and purchase through Playgreenhouse.com, Hothead and Penny Arcade's portal for casual game sales.
Penny Arcade Adventures: On the Rain-Slick Precipice of Darkness, Episode Two has been rated M for Mature by the ESRB.
System requirements call for Mac OS X 10.4 or later, G4/1.0GHz or faster (including Intel), ATI Radeom 9500, GeForce FX 5200 or GMA 950 or better 3D graphics with 64MB VRAM, 512MB RAM, 350MB hard disk space.
Note: When you purchase something after clicking links in our articles, we may earn a small commission. Read our affiliate link policy for more details.