If anyone doubts any longer that the newspaper's days are numbered, download Movies for the iPhone or iPod Touch.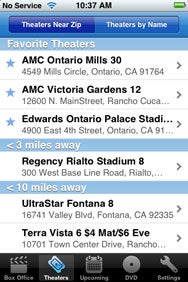 Time was, you needed to buy the local paper if for no other reason than the Arts & Entertainment section, where all the movie listings appeared. Of course, that started to change a decade ago, as news migrated online and entertainment Web sites began to proliferate. The advent of Internet Movie Database, Hollywood.com, Fandango and Flixster made searching movie times and buying tickets online ridiculously simple. Or you could do what I often would do from the road when I hankered to see a movie and didn't have Internet access at hand: Call directory assistance.
Movies captures the essence of the Los Angeles Times Calendar section: New movies, coming soon, reviews, theaters and movie times. The app even has a category for new DVD releases. Of course, Movies vastly improves on any newspaper offering by showing you the nearest theaters—either by ZIP Code or using the device's GPS locator function—and letting you purchase tickets. You can even watch trailers.
Movies offers a clean, easy-to-use interface, that lists the blockbusters and the bombs now playing or coming soon to a multiplex near you. And it's free.
When you launch Movies, you will be prompted for your location or ZIP Code. Users of an earlier version of the app complained that the ZIP function didn't work, though that problem appears fixed in the version I tested. The locator is hit-and-miss. Sometimes Movies would find where I was, sometimes it wouldn't. Hey, it happens. More disconcerting was the ZIP Code feature. Entering my home ZIP Code was a simple matter. Changing the ZIP Code caused the app to crash. The new ZIP Code worked only after I relaunched the app.
Once the app figures out where you are, you're taken to the Upcoming Movies page. Buttons across the bottom of the screen let you navigate to current releases, theaters, new DVDs and settings. Apparently, the Upcoming Movies page is the default start-up screen. The developers should let users set which page they want to see when the app launches. I go straight to the Box Office page.
The theaters section is one of the best parts of the app. Movies displays theaters within 3, 10, 15, and 20 miles of your current location. The app lets you save favorite theaters for easy reference. The app will show that day's movie times, but you can also look up times days in advance. And you can click on the theater's address and pop up a map and get directions.
Movies is probably most useful as a high-tech film list than as a movie-ticket buying application, but your results may vary. The trouble is, when it comes time to actually purchase tickets, Movies takes you out of the app and into the device's browser, where you are navigated to Movietickets.com. The interface there is terribly clunky. It's helpful if you already have a Movietickets.com account set up. Then you can log in, and use your stored credit card info to buy tickets with just a few button taps.
Also, Movies does not hold your place. So if you click to read a film review on Flixster, Rotten Tomatoes or IMDb, Safari launches and off you go again. But when you're done reading how terrible Max Payne is, and you want to return to Movies to find another film, you need to relaunch the app, where that default "Upcoming" screen appears. This is annoying.
But annoyances aside, Movies operates well as a movie search tool. Now if only somebody would develop an app that makes movies better. That would be worth a buck at least.
The application is compatible with any iPhone or iPod touch running the iPhone 2.x software update.
[Ben Boychuk is a writer and columnist in Rialto, Calif.]