A new application called Classics has been released for the iPhone that brings some realism to reading books on the iPod touch and iPhone.
When you first launch Classics, the interface looks like a bookcase with the book covers facing you. You can double-tap on a book to begin reading it or tap and drag to rearrange the books.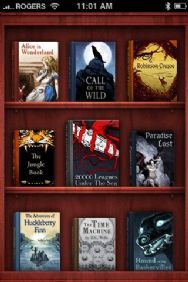 Classics features animated page turns and sound effects, so you get the feeling of actually reading a book. Swiping your finger to left advances the page and going right turns the page back. The interface also includes a home button and a button to list the chapters of book.
If you are reading a book and exit the application, a visual bookmark is placed on the page where you exited, making it easy to pick up where you left off.
Classics is available from the App Store and costs $2.99.