Sometimes the best gifts are those you make, not the ones you buy. And fortunately, "handmade" can apply to the digital realm. You can save some money, avoid the mall, and give something more personal by creating a DVD with video and photos of the past year's events using iDVD and the rest of the iLife suite.
Why make a DVD instead of uploading material to a MobileMe gallery or a service such as Flickr or YouTube? Because nearly everyone owns a DVD player or a computer that can play DVDs; not everyone has broadband Internet access. You can also easily customize the experience rather than relying on a Web service's interface.
Plan ahead
Before starting your project, give yourself plenty of time—it will take longer than you expect. And sketch out your end result beforehand to help you determine whether you have everything you need.
Also, you should think about how you'll want to build photo slide shows. iPhoto offers many options for customizing a slide show, such as applying the Ken Burns Effect (pan and zoom), adding music, and picking the speed and duration of each slide; however, iPhoto exports the slide show as a movie, so you must go back to iPhoto to change any settings. You can create a similar slide show in iMovie, with the same limitation if you decide to edit the slide show. Or, you can build editable slide shows in iDVD, with the option to let the viewer control playback; but iDVD slide shows do not offer the Ken Burns Effect or the same degree of control as iPhoto or iMovie.
Assemble your media
Once you've sketched out your general plan, it's time to assemble the media that will appear on the DVD. If you're creating a slide show in iPhoto '08, click on the plus sign in the lower left corner and, from the sheet that appears, click on Slideshow and give the slide show a name. If you've selected the photos you want in your slide show already, be sure to check the box next to Use Selected Items In New Slideshow before clicking on the Create button. Otherwise, click on the button, return to your photo library, and drag the photos you want to use to that new slide show in the sidebar (you can drag an entire event if you want). Pick your settings, and either select File: Export then name your slide show and select the Large (640×480) size before saving it, or wait until you're ready to add it to iDVD and export it directly then (more on that later).
If you'll be building a slide show in iMovie or iDVD, you can make it easier to find photos by setting up a new album in iPhoto (File: New Album) to hold your favorite pictures. Better yet, create a Smart Album (File: New Smart Album) that will do the sorting for you; for example, the Smart Album could display your highest-rated photos shot during the past six months. Your albums will appear in the Photos browser (iMovie) or Media pane (iDVD).
You can apply the same techniques in iTunes for building playlists of music you want to use for the slide shows, for video, or for the DVD's menus. When you're creating slide shows and editing video, it's helpful to click on the Time column header in iMovie's Music And Sound Effects pane or iDVD's Media pane to sort the music from shortest to longest (or vice-versa), to see which song's length best approximates the intended duration of a movie or slide show.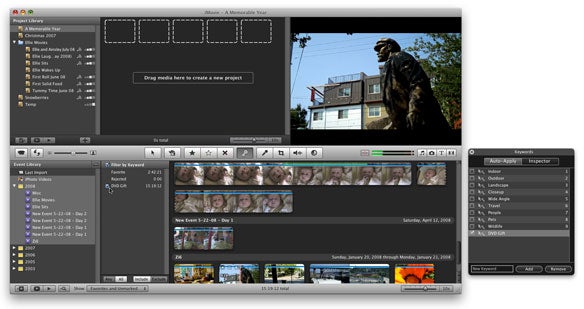 For video, you can take advantage of a hidden organizational feature of iMovie '08. In the program's preferences, first enable the Show Advanced Tools option. Next, assign a unique keyword to video footage you want to use in the project: in the Event browser, select a range of frames and press the K key to bring up the Keywords heads-up display. Enter a new keyword in the field provided (such as "DVD gift") and click on Add To Clip. To speed up the process for additional video snippets, click on the Auto-Apply button in the display and select your keyword. You can then simply click and drag over a series of frames to apply that keyword to those clips. This technique also works for movies stored in iPhoto (such as those you shoot with video-capable still cameras), because iMovie generates thumbnail previews of iPhoto movies and displays them in the Event browser.
Next, display the Keyword Filtering pane (Window: Keyword Filter) and click on the checkbox next to your keyword. When you select an item in the Event list, only the tagged clips appear in the Event browser, so you needn't sort through the rest of your clips.
Edit video in iMovie
With your assets collected, edit your video in iMovie. Unlike iMovie versions of old, iMovie '08 tracks all your movies in the Project Library, so if you're including several movies on your DVD you can work on them at your leisure without opening and closing files.
iMovie is also the place to record any voiceover work, such as narrating a travel video or recapping highlights from the past year as their visual counterparts appear. Click on the microphone icon or press the letter O to bring up the Voiceover tool, and then click on a clip in the Project browser to start recording. Unless you're really comfortable doing a voiceover on the fly, I suggest writing a script beforehand and practicing it a few times. But don't worry—you can re-record the voiceover, which appears as a new audio clip.
Import into iDVD
It's time to bring it all together. Launch iDVD '08 and create a new project. Choose one of Apple's themes and, based on your content, decide whether the project should be in standard (4:3) or widescreen (16:9) mode.
If you've created a slide show in iPhoto, you can now choose Share: Send To iDVD in iPhoto, which encodes the slide show as a movie and adds it as a new video to your iDVD project. If you've already exported it as a movie, just add it to your project manually.
Chapter Markers Adding video from iMovie is more complicated than it used to be. The ability to create chapter markers—bookmarks that let you jump to specific sections of a movie while watching a DVD—didn't make it to iMovie '08 when Apple revamped the program. You can instead add chapter markers in GarageBand.
To do so, pick a video in iMovie then select Share: Media Browser and pick the Large size. In GarageBand, bring up the Media pane, click on the Movies tab, and drag your movie to the timeline. To add a chapter marker, position the playhead and choose Edit: Add Marker (or press the letter P). When you're done creating markers, choose Share: Export Movie To Disk and save it with the Full Quality video setting (you can choose Share: Send Movie To iDVD, but it will cause iDVD to create a new project). To add the movie to your iDVD project, choose File: Import: Video and choose your exported file.
Customize the DVD menu
By now you have your videos and slide shows in place, but you're still working with iDVD's default themes. To personalize your gift, you'll want to add photos or videos from the Media pane to drop zones within the theme. (Drop zones are sections of a menu to which you can add slide shows, movies, and photos.)
Click on the Edit Drop Zones button to view the available drop zone wells, and then drag items where you choose.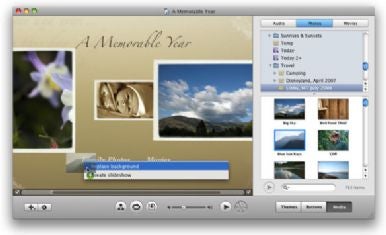 In iDVD '08, nearly everything in the DVD is editable. Click on a title once to select it and then once again to edit the text, for example; the font formatting appears as a set of floating pop-up menus beneath the title. (If the Inspector window is visible, the formatting options appear there.)
Click on Buttons to change the appearance of the menu items. In the pop-up menu that appears, the first three items dictate the look of text buttons; the last four offer shapes that can contain thumbnail previews of the buttons' media. Bring up the Inspector (Command-I) to access controls such as the buttons' sizes and thumbnail behavior.
Don't feel locked into Apple's themes, either. You can change the background image of a menu by dragging video or photos onto the menu; hold the Option key before releasing the mouse button and choose Replace Background from the contextual menu that appears.
Burn the DVD
Before you burn and ship your DVDs, there are a few things to consider. Because you're giving the DVD as a gift, you could include the high-resolution original copies of photos to the disc for others to add to their digital photo albums. If you created your slide show in iDVD, double-click on the slide show to open it, click on the Settings button, and enable the Add Image Files To DVD-ROM checkbox. If you created it elsewhere, choose Advanced: Edit DVD-ROM Contents and drag photos from the Finder to the DVD-ROM Contents window. When the recipient of your DVD puts the disc in a computer, he or she can copy the image files to iPhoto or elsewhere.
Also, it's a good idea test your completed project virtually. Although iDVD offers a preview option, you'll get a better previews by creating a disc image (choose File: Save As Disc Image), mounting the image by double-clicking on it, launching DVD Player, and opening up your DVD image.
If all looks well, go back to iDVD and choose File: Burn DVD (or click on the Burn button), pop in a blank DVD disc, and go do something else while the burn completes. Or, if you prefer, you can use the disc image you created to burn DVDs using Apple's Disk Utility or a program such as Roxio's Toast.
Jeff Carlson is the managing editor of TidBits and author of iMovie '08 & iDVD '08: Visual QuickStart Guide (Peachpit Press, 2008).