FastMac has announced that it is shipping the iV, a three-in one charging kit for the iPhone. It costs $79.95.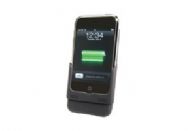 The iV provides extended battery life — up to three times as much, according to FastMac. What's more, it also incorporates a built-in LED for illuminating pictures taken with the iPhone's built in camera (it doubles as a flashlight in low-light settings), along with a charger for boosting the battery life of your Bluetooth headset.
FastMac claims the iV paired to an iPhone provides up to 24 hours of talk time, 31 days of standby, more than 20 hours of video playback and 72 hours of audio playback time.
The iV connects to the iPhone's dock connector and cradles the iPhone (separate versions are available for the iPhone and iPhone 3G). A full-sized USB port is built in, so it can power up a Bluetooth headset, digital camera or other device that recharges using USB power. The case is molded out of a soft-touch non-slip material. The bottom is contoured so the iPhone can still be docked and charged inside Apple's own iPhone Dock and Universal dock; it incorporates speaker chambers that reflect the iPhone's sound up and out towards the listener.