Gameloft is one of the biggest players in mobile games out there, and so it should come as no surprise that it's developing games for the iPhone. Real Soccer 2009 is a soccer simulation game that shows what happens when a big developer puts the time and effort to make a sports mobile game right.
Players will immediately develop an affinity for this pocket-size kickfest- incredible graphics, intuitive controls, and deep gameplay make this one of the best apps out there. With a number of weather conditions, stadiums, game-lengths, tournaments, and teams to choose from, Real Soccer 2009 is a must-have for any fan of the pitch.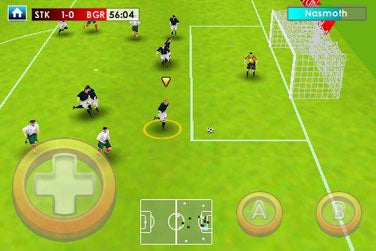 World Cup fanatics will not only get to play as their favorite country, but also as top-tier English, Spanish, Italian, German, South American, American, and Scottish league teams. If you ever wanted to see how Moscow would stack up against Celtic, it'll only take you a couple clicks to set up an exhibition match. I have some minor quibbles with the naming of some teams, though—my beloved Arsenal is listed as "London" and Manchester United and Manchester City are listed as "Man Red" and "Man U," respectively. You'll only find a couple of American clubs aside from the American national team though, but for my money I'd rather play with better teams, and international clubs are always much, much better.
The controls are fairly intuitive—you control movement and the direction of the ball with a gamepad that appears in the bottom left corner during play. There are two buttons on the right—on offense, one button handles passing and the other is for shooting, while those buttons control stealing and slide tackling on defense. But the real genius of the controls becomes evident when your team has to perform a throw-in. In order to throw the ball in, you can tilt the iPhone to dictate where the ball will go, shaking the phone to throw the ball itself. It's a really simple and clever way to incorporate the iPhone's accelerometer into gameplay.
The controls utilize a pretty classic setup but it took me about three games to get used to the feel of the gamepad. One element I never got used to was how the computer dictates which player you control: you usually wind up taking over whichever player is closest to the ball. On defense, I often found the random switches irritating as I watched the opposing player dribble through my stationary players.
The training mode is pretty helpful for mastering some of the game's more subtle features, such as the "give-and-go" pass scheme. After training, I was averaging about two goals per five-minute match and had figured out that slide tackling the opposing goalie may be a sure way to earn a red card but it's also incredibly fun.
The game has several modes-exhibition, penalty kicks, league, training, and cup—that allow players a varied level of gameplay. Exhibition matches can be set up in seconds and take only five minutes to complete—ideal for when you're on the subway and want a quick game. The tournaments require more of a time investment and offer greater strategic depth. In addition to controlling your players on the pitch, you also can pick your formations, substitutions, and tactics. Players tire and need to be rested, for example. Real Soccer has room for one saved game per tournament and will automatically save your furthest progress. So if you keep on losing to Italy in the quarterfinals, you can restart from your last victory without fear of having to start the tournament over.
You can see the stats on various players and teams, and even at the easiest settings, it'll be pretty obvious the difference in talent between the Brazilian national team and the LA Galaxy. Players have individual stats and some have pronounced skills like "power kicker" or "strong passer." It's hard to render player detail on such a small screen, but it's easy to recognize Rooney's silhouette compared to Ronaldinho's.
You can play with or without sound, but the soundtrack is surprisingly well-developed for an iPhone game. You'll hear some classic soccer cheers during matches and the crowd noise elevates when you get close to the opposing goal—a realistic detail soccer fans will love.
Real Soccer 2009 is compatible with any iPhone or iPod touch running the iPhone 2.x software update.
[Chris Holt is an assistant editor at Macworld. Do not bring up the result of this weekend's Aresnal-Stoke match.]