A startup called Ntractive believes so strongly in the growth of Macintosh use among businesses that it has based its CRM (customer relationship management) product on Apple technologies.
Elements SBM 1.0 is a "hybrid Web application" for systems running Mac OS X. While largely oriented around CRM, the product also lumps in features like project management and messaging. Ntractive used Apple's open-source WebKit framework to create the software.
Users' information is stored in Ntractive's data center and accessed over the Web, but the application's custom browser can use desktop and operating system resources for better performance, according to Ntractive.
Ntractive's product is not the first Mac-centric CRM software, and on-demand vendors NetSuite and Salesforce both support Apple's Safari browser, but the company could be entering the market at an opportune time.
Apple's share of the business computing market is still tiny in comparison to Microsoft, but organizations like the Enterprise Desktop Alliance, a vendor group trying to spur Mac adoption within companies, are trying to change that.
And other predictions have it that Apple will achieve greater business adoption in coming years, when younger Mac users enter the workforce.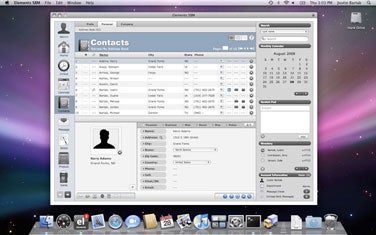 Ntractive, based in Grand Forks, North Dakota, is targeting companies with between 5 and 50 employees, said Amy Indridason, who handles sales and marketing. The software costs $69.95 per user per month. Support is extra, starting at $10 per user per month. Windows support is also planned, she said.
Some participants in Ntractive's private beta had been using established CRM products like Salesforce, she said. But others were relying on basic contact management software, products like FileMaker, or a mix thereof, she said. "They're just really sick of combining stuff. They spend so much time trying to knit it all together and it doesn't work," she said.
Tony Morris, vice president of the Mormac Brokerage Agency, a financial planning firm with offices in El Paso and Dallas, Texas, is in the latter camp.
Morris said he decided to move his company over to Macs due in part to a belief they'd be more stable and last longer.
Mormac has been running "a patch quilt type of things," using a Microsoft Access database and Excel spreadsheets. Morris said he is enjoying the ability to track "basically everything," including things like employee hours, through the Elements system.
Another beta tester, North American Land Network, decided at the outset to standardize on Mac OS X, said Jared Hughes, chief operating officer. NALN is a startup online real estate listings service aimed at rural and recreational property.
Like Morris, Hughes expressed great pleasure with the Elements product. Its look and feel "could not be more Apple-esque," he said via e-mail.
However, future editions of Elements SBM could use more accounting-related functionality, he said.
Right now, the software can push information into MYOB AccountEdge, a small business accounting software package that runs on Mac. But it would be nice if Elements could give him the ability, for example, to create and send statements to clients, he said.