Digital guitar hardware and software company Line 6 released a new software application aimed at computer using guitar players. Dubbed Pod Farm, the new software comes as a standalone application and a plug-in compatible with GarageBand, Logic, Pro Tools and Cubase.
Previous users of Line 6's GearBox software application will notice quite a big difference with Pod Farm, especially with the interface. Pod Farm features a modern looking interface with realistic representations of the amps and effects.
The interface provides a side-scrolling look at all of the amps and effects, so you can easily choose what you want to add in your chain. You can also click a button to quickly scroll to a particular effect.
Once in the chain, clicking on an amp or effect allows you to adjust the individual settings for that piece of equipment.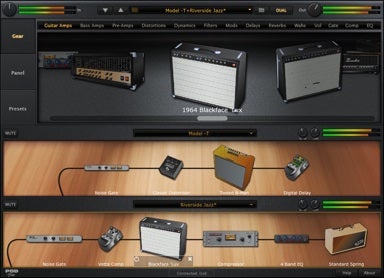 Pod Farm is capable of making dual tones, meaning that you can make two completely separate signal chains that run independently of each other. For instance, you could run a modeled Marshall amp with Delay and Chorus and at the same time run a clean Fender amp.
Pod Farm is also compatible with any of the Line 6 add-on amp and effects packages you may have purchased to work with GearBox.
The Pod Farm plug-in is a free upgrade for users of the POD X3, POD X3 Live, POD X3 Pro, TonePort DI, and TonePort UX8. Pod Farm is also free to users that purchased the GearBox plug-in.
For new users, the Pod Farm plug-in starts at $49. The standalone application only works with select Line 6 gear.