It's been a while since I've talked about recording audio on the Mac, but I' still working hard at putting my album together. In fact, I've been at this audio recording project long enough to learn some very valuable Dos and Don'ts. And in the spirit of collaboration, I thought I would share these important tips with you, in case you find yourself recording audio on your Mac.
Do…
… make sure to click Save after you just recorded the most amazing live-off-the-floor performance.
… provide refreshments to the other musicians, but only after you're done recording.
… make sure to always run the cables yourself. Pulling on a cable that someone else connected to the mixer may not be the best idea.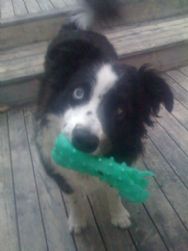 Don't…
… leave the studio door open when you are recording drum tracks for a song and also have a hyperactive Border Collie that barks loudly at the slightest sound.
… believe the singer when he says it will be okay if he sets his beer down on the pool table during rehearsal.
… believe the drummer when he says it's okay to run the guitars through your mixing monitors for a live rehearsal. Ever. (I knew better, I really did. Sadly, the monitors blew up).
… use a performance recording and then delete all of the audio when you're creating a song template for future use. A much better idea to use a blank file.
… schedule a recording night on the same day that your 15-year-old daughter hates you more than life itself.
On a less whimsical front, I also picked up some new gear to try out on the recordings. To replace my blown-up monitors, I'm using Mackie SRM450 loudspeakers. I also picked up a Peavey 5150 amp from eBay, and I'm trying JamVOX software and the new Line 6 Pod Farm plug-in. I'll fill you in on how that gear works the next time we talk.