The iPhone's virtual keyboard is fine for taking short notes, but it's not practical to transcribe a conversation or preserve a brilliant idea while you're scrambling to catch a plane. Retronyms' Recorder lets you make sound recordings on the fly and transfer them by Wi-Fi or e-mail.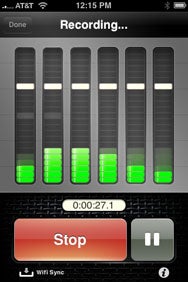 A large red button at the bottom of the main screen triggers audio capture. While you're recording, meters help you monitor the sound level, although you can't adjust the input sensitivity if the volume isn't right. Recorder saves sounds in the popular Audio Interchange File Format (AIFF), so they're compatible with all Macs and Windows PCs. The default lower quality setting is fine for most applications. Since it uses only 1MB a minute, there's plenty of room, even on an 8GB iPhone. (Recorder's high-quality setting uses five times as much memory, but you won't notice the difference with the built-in mic.)
To send a recording by e-mail, Recorder uploads the sound file to Retronyms' server and creates an outgoing message with a link to the file. Although you can't e-mail recordings longer than five minutes, even at the lower quality setting, you can transfer them to a computer wirelessly. Tapping the sync button displays an IP address that you can type into any browser on the same network to show a list of your recordings, ready to download.
Note that while Recorder works on the iPhone, iPhone 3G, and second-generation iPod touch, it won't work on original touch models. That's because the second-generation touch supports audio recording via the headphone jack; the original model doesn't.
Recorder won't let you save phone calls—a limitation of Apple's development software—nor can you set it to record on schedule. But I was surprised to discover that Recorder keeps on listening after you put the iPhone to sleep, opening up some, ahem, interesting possibilities. Even if you only use it in the open, though, Recorder is a bargain.
Recorder is compatible with any iPhone or second-generation iPod touch running the iPhone 2.x software update.
[Franklin N. Tessler is a university professor and radiologist who lives in Birmingham, Alabama.]