At a Glance
Expert's Rating
Pros
Loud
Can sync iPod or iPhone in dock connector
Multiple audio inputs
Reasonable audio quality
Cons
Sound not completely uncolored
No power outlet on the back
Our Verdict
With the success of the iPod there's increasing interest in small, powered speaker systems to jack iPods into. Samson has recently released just such a set of powered speakers in the form of the $195 StudioDock 3i Active USB Monitors. Featuring a built-in iPod dock, two analog audio inputs, and support for USB audio, these small speakers are both versatile and listenable.
Parts and ports
These toaster-sized speakers are similar to many powered speaker models in that the right speaker hosts the amplifier, power supply, volume control, and inputs and outputs, while the other speaker is tethered to it via wire connectors. On the front of the right speaker you'll spy a 2.5-inch silk-dome tweeter, 3.25-inch polymer woofer, a volume knob, a miniplug (1/8-inch) stereo input jack, and a miniplug headphone jack. When you connect a set of headphones to the headphone jack, the speakers are muted.
On the back of the right speaker is a USB 2.0 port, a set of left/right RCA inputs, a power jack, a power switch, and a voltage selector switch. The top of the speaker hosts the integrated iPod Dock (which uses Apple's Universal design; no dock inserts are included). Each speaker has an open port in back to enhance bass response.
Samson's published frequency response for the speakers is 80Hz to 23kHz, with a power rating of 15 Watts per channel.
The iPod dock and the front and rear audio inputs are all active with no way to shut them off individually or switch between them. This means that if you have multiple input sources playing—an iPod in the Dock, a CD player plugged into the back, and some other noisemaker plugged into the front—it's possible to listen to them all at once.
What's special
Unlike some other powered speakers I've seen, the StudioDock 3i gives its iPod Dock full functionality and puts its USB port to good use. As you'd expect, the iPod dock lets you play music through an attached iPod or iPhone. (Your iPhone will tell you that the speaker isn't compatible, so you're susceptible to the usual cell phone interference that crops up every so often.) But the dock also charges the iPod or iPhone and, when you have a USB cable strung between the speakers and your Mac, allows you to sync your device with iTunes.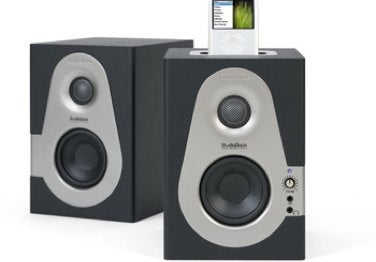 The other special feature is that the Samson speakers' USB port lets you use the system as an output option for your Mac's audio. This means that the speakers can operate as desktop speakers for your computer as well as providing a way to play music from your iPod or iPhone. (You choose the speakers as your Mac's audio output in the Sound pane of System Preferences.)
When you connect your computer to the speakers and place an iPod or iPhone into the dock cradle, the dock is mostly unavailable for audio use. Rather, it acts to sync the iPod or iPhone. By mostly I mean that if you really want to play music from the docked device while the system is connected to a computer via USB, you can select the iPod or iPhone in iTunes to access its preferences screen, choose to manually manage it in the General tab, and then, from within iTunes, select tracks and play them. As with any docked iPod or iPhone that's manually managed, the iPod will play through the computer and any speakers attached to it.
Yes, this is a lot of trouble to go through simply to play computer audio and a docked iPod at the same time. Thankfully, most people have the same music on their computers that's on their iPods, so they can simply play the music from their iTunes libraries instead of the iPod.
One special feature I would have liked to find but didn't is a power outlet on the back of the right speaker. This is something you find on some larger powered speakers, such as Audioengine's A5 ( ), for using an AirPort Express Base Station to stream music to the speakers. Given the speakers' size and price I'm not horrified that there's no outlet, but it would have been a nice addition.
The sound
Because you may use the StudioDock 3i speakers with your computer, it's important that they sound good when they're just a few feet from your ears. Given the size of the speakers, for the most part they do, although if you were hoping for uncolored reference monitors, you won't find them here. The mids and highs are fairly well represented, though I found the speakers lacked some high-end sheen and, on some tracks, lower-mid frequencies were more prominent than I liked. Bass is present and accounted for without being too boomy or undefined—unless you need the room to shake when you listen to music, you won't miss a subwoofer—and there's plenty of volume to spare. If you want to use them as bookshelf or desktop speakers to fill a room with sound, they're up to the job.
Macworld's buying advice
The StudioDock 3i speakers are affordable, flexible, provide plenty of volume, and sound good for speakers their size. If you're in the market for computer speakers that can also accommodate an iPod, give them a listen.