I'm increasingly interested in the notion of making my iTunes library available to me wherever I go. Oh sure, I have plenty of iPods and with a sackful of the things I could manage to truck my music with me, but that's not what I'm after. Rather, with iPhone or iPod touch in hand, I want to listen to a favorite tune or podcast not on the device. One way to do that is with Simplify Media.
And simple pretty well describes it. To use Simplify Media you simply download the client application for your computer (available for Mac, Linux, and Windows), sign up for the free service—providing a username and password—install the application, and tell the client whether you want to share your iTunes library and playlists or the contents of your Music folder. Give the client the go-ahead and it uploads a list of the unprotected music files (just a list, not the the music itself) to Simplify Media HQ. (I uploaded a list of over 17,000 tracks and it took about five minutes to complete the process.)
On the iPhone side of things, just drop $4 on the iPhone/iPod touch Simplify Media client, launch it, enter your screen name and password in the Settings screen, and tap Done. It will take a couple of minutes for the client to update the contents of the connected library. Once that update is complete, tap the name of your media library in the Media list screen and you'll be presented with a screen that displays, at the very least, All Albums, All Artists, All Genres, and All Songs. If you've chosen to display your iTunes library and playlists, your playlists will appear on the screen.
Songs, artists, albums, genres, and playlists are displayed similarly to the way they're shown in the iPhone's iPod area. Tap an entry and you'll see the items it contains. If you tap an artist's name and you have more than one album represented by that artist, the albums will be listed as separate entries under that name. You can also choose All Songs when there are multiple album entries. Regrettably, the iPhone/iPod touch client lacks a search feature. I'm hopeful that one comes soon as navigating a large music collection without it can be a chore.
To play a track, just tap it. The Now Playing screen will show you the artist's name, track name, album name, the year the track was released, and, if available, album artwork. Tap the Artist button in the upper right corner of the screen and you can view a short biography of the artist (if available). Tap a Lyrics button to view any available lyrics. At the bottom of the screen are the expected Back, Play/Pause, and Forward buttons along with a volume control.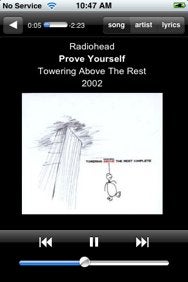 While I intend to use Simplify largely for mobile listening, you don't have to. With Simplify Media installed you can listen to your music library from any computer. Just fire up the client, enter your username and password, and you're in. Additionally, you can invite up to 30 friends to listen to your music. They'll need to create Simplify accounts of their own, but once they do, just send an invitation to their screen name. In their copy of the client they'll see your screen name listed under a Received Invitations heading. To accept the invitation they need only click a green button next to your screen name in this area. Once they accept that invitation your Simplify library will appear in iTunes as a shared library.
Simplify Media won't play protected tracks or videos. iTunes needn't be running on the host computer for Simplify to do its job. The Simplify Media client must be running on that computer, however.
I'm impressed. I think you will be too. Give it a go.