Macintosh software developer Sonoma Wire Works on Thursday released a new audio application called FourTrack for the iPhone and iPod touch.
Sonoma Wire Works is best known for its RiffWorks audio recording software on the Mac, but the company took the plunge into iPhone development shortly after the iPhone development kit became available.
The company is targeting singers, guitar players, piano players and other musicians who want to capture musical ideas and record songs on their iPhone. You can use the built-in mic on the iPhone to record, or attach an external mic.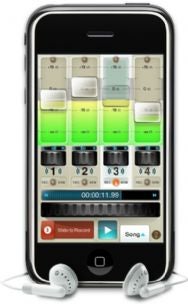 As the name suggests, the app has four tracks that are recorded at 16bit, 44.1kHz and can be unlimited in length, or until your iPhone is full. The interface shows meters for recording and playback levels, recording clip lights, faders for each channel, and pan controls.
FourTrack also features a Compressor and Limiter, latency compensation and Wi-Fi sync so you can get your recordings off your iPhone or iPod.
Doug Wright, President of Sonoma Wire Works also said future versions of FourTrack will include integration with its RiffWorks Mac software. Development on the integration is already underway, according to Wright.
"The opportunities are endless," said Wright. "For music recording products, you can do some music work anywhere because you have your phone with you."
FourTrack costs $9.99 and can be downloaded from the App Store.