When lamenting the passing of matte screened MacBook Pros last month, I noted that I was planning on using my two-year-old 15-inch 2.33GHz MacBook Pro until that matte screen model no longer functioned. At that point, I figured I'd probably head to eBay and look for a 2.6GHz matte screen version, the apparent end-of-the-line machine for the matte-screened MacBook Pros.
However, something strange happened on the way to the future. Someone pointed me in the direction of the Apple Special Deals web site. I had heard of the Special Deals site before, but hadn't ever spent much time there. The Special Deals site is where Apple clears out two specific classes of products: unsold versions of previous-generation products and refurbished products (which can be either current or previous generation models). These special deals are available for both iPods (and Apple TV) and Macs, and as I discovered, there are occasional bargains to be had, especially in the refurbished portion of the store.
What caught my eye in this particular case was a refurbished 2.6GHz 15-inch MacBook Pro with a 7,200-rpm 200GB hard drive and the GeForce 8600M GT with 512MB of RAM (and a matte screen, of course). This particular model was the top-of-the-line of the previous MacBook Pro generation, and as such, I figure it has about the best chance of lasting until Apple comes to its senses and releases another matte-screened MacBook Pro.
But what really caught my eye was the price—the day I visited the Special Deals store, this particular machine was available for $1,799, or $1,000 off its original selling price. (As can be the case with items in the Special Deals section, this particular configuration has since vanished.)
Intrigued, I did some more browsing around both the Mac and iPod sides of the Special Deals site, and there really are some deals to be had. Refurbished third-generation iPod nanos, for instance, are available for $79 ( 4GB) and $99 ( 8GB). Not quite as good of a deal, but invaluable for those with huge music collections, refurbished 160GB iPod classics can be had for $249, a 16-percent savings.
On the Mac side, the original high-end MacBook Air—the one with the 1.8GHz processor and 64GB solid state drive—can be had for $1,799, nearly 50 percent off its original $3,100 price tag. While you'll see discount percentages next to some machines, they aren't shown for every product in the Special Deals store. You can dig through the Macworld Mac Hardware Guide to find a given machine's original price, if you're interested in knowing just how good the deal may be.
After some checking on eBay and other online sellers to see what I might get for my 2.33GHz MacBook Pro, I made the decision to buy the refurbished machine—but not without at least some trepidation. This was, after all, a machine that a customer had returned to Apple for some reason or another. Would I get a lemon that had been basically cleaned and repackaged? The short answer is no. The slightly longer answer is that a refurbished Apple product meets the same high standards as do new Apple products.
Before being offered for sale, each returned machine is cleaned, defective parts are replaced, the machine is fully tested, and it's then repackaged with everything (hardware and software) that came with the original machine when new. Each refurbished machine includes the standard one-year Apple warranty, and is eligible for AppleCare protection. All of this is explained in detail on the Special Deals web site, and it definitely made my purchase decision easier.
Sure, I could have saved even more money by buying a used Mac, of course. But then I wouldn't have the one-year Apple warranty, the three-year AppleCare option, or the knowledge that my machine was cleaned, tested, and in perfect working condition before being sent out.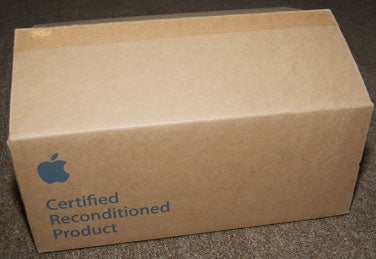 When the machine arrived a few days later, there was one immediately noticeable difference between it and a brand-new Mac: the packaging made it obvious that I hadn't splurged on brand-new hardware. But really, after saving $1,000, I didn't much care.
Opening up the plain brown box ("Honest, honey, it is a computer!") revealed a few interior compartments, holding (as promised) the original software and hardware that came with the machine. I unboxed everything and studied it closely looking for signs of damage, but there wasn't any to be found. The case was dent free, the screen showed no scratches, all the lettering was on the keyboard keys, and there wasn't any sign that the palm rests had ever been used. Looking at my MacBook Pro, there's no way you could tell it wasn't a brand new machine. With the initial inspection complete, I plugged it in, pressed the power button, and was rewarded with the sweet sound of the Mac's normal startup chime.
This all took place a couple weeks ago, and since then, the MacBook Pro has been getting regular workouts and hasn't shown any ill effects of its previous life as a returned product. There aren't any dead pixels on the screen, the OS has been rock solid, and everything works as expected. I am, however, investing some of my savings in my continued peace of mind by buying AppleCare for this machine, just in case there are any deep-down lingering issues. I seriously doubt I'll have to use the protection, but if something disastrous happens 30 months in, I'll be much happier having spent the money for AppleCare.
If you're thinking of shopping the Special Deals site, here are a few things to keep in mind. First, the products listed there change quite often—the number of matte-screened MacBook Pros available, for instance, seems to decrease every day. So load the page often if you're in the market for a refurbished machine; unfortunately, there's no RSS feed, so you can't keep up with the deals in your favorite newsreader.
Second, you'll find the best deals in the Apple Certified Refurbished section of the page. Further down is a Previous Generation section, and it's here where you'll find new-in-box prior generation machines. Because the machines are brand new, you'll pay a bit more for them—the exact 15-inch MacBook Pro that I purchased is also available in this section, for $300 more than I paid for it.
Finally, if you do buy a refurbished machine, I would strongly recommend investing some of your cash savings in AppleCare. Knowing that your rebuilt machine is covered for a full three years is a reassuring feeling, especially if this machine is going to be your primary work Mac.
Even after paying for AppleCare, though, you'll still come out well ahead against buying a brand new Mac. In my case, after selling my 2.33GHz machine and including the cost of AppleCare, I was able to buy a good-as-new and nicely equipped MacBook Pro (with three years of AppleCare coverage) for about $1,000. For that price, I get a machine that's hopefully got enough horsepower to see me through the glossy-only era, even if that stretches across the next five years or so.
Yes, I know there's a chance the glossy era may never end…if that turns out to be the case, I guess I'll take an in-depth look at anti-glare screen filters and see how well they work. Until then, though, I'm going to soldier on with my (used but good as new) 2.6GHz MacBook Pro and its lovely matte screen.