If you use the Universal Access screen zoom feature—Command-Option-equals and minus, or Control plus your mouse's scroll wheel—you've probably noticed that OS X attempts to "smooth" the zoomed-in image by applying various color shades to fill in areas of sharp color change. Depending on what you're looking at, and how much you're zooming in, the end result can either be very nice or very ugly. I find text at mid-zoom levels looks fine when smoothed, but when really zoomed in, the end result can be quite ugly, as seen in the image below.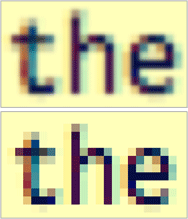 There is, thankfully, a way to disable the smoothing when zooming. At any time while zooming, you can press Command-Option-backslash to toggle smoothing off or back on.
This shortcut is documented in both the Options section of the Seeing tab of the Universal Access System Preferences panel, and in the Universal Access section of the Keyboard Shortcuts tab of the Keyboard & Mouse System Preferences panel. Despite the fact that this shortcut is listed in two separate spots, I didn't know it was possible to turn off smoothing until someone pointed it out to me.
Because this shortcut is a pre-defined keyboard shortcut, it's easily changed to another keystroke if you wish—just double-click on the listed shortcut in the Keyboard Shortcuts tab of the Keyboard & Mouse System Preferences panel, then type the shortcut you'd prefer to use. I actually find the default keystrokes logical and easy to use—if you're using the keyboard to zoom, you already have Command and Option pressed, and the backslash key is quite close to the equal and minus keys that control the zoom level.
I realize this isn't the world's deepest-buried hint, but if I've overlooked this feature, perhaps others have as well.