I've never really cared for the touch screen keyboard on the iPhone. Sure, I've grown accustomed to it. Beats a stylus any day. But I've never become comfortable with it. Truth is, I sometimes miss my Blackberry, with the QWERTY keyboard. Even if the keys were small, I could at least feel the correct ones. I constantly find myself mashing the wrong key when typing e-mail. Try as I might to mind my p's and q's, as often as not I delete and retype o's and w's.
The keyboard on the iPhone and the iPod Touch is simply too small and a little too imperfect for people, like me, with stumpy, clumsy fingers. Happily, there is a remedy—as Dan Frakes discovered in his look at wide-format e-mail applications for the iPhone, a number of third-party developers have created e-mail add-ons that provide a landscape keyboard for typing out messages.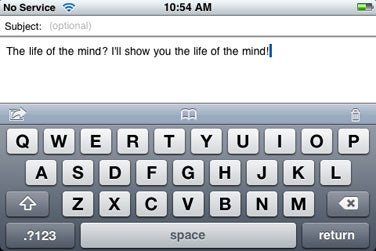 This week's initial review of a half-dozen of these wide-format e-mail apps was certainly comprehensive, but it didn't address every option. We're continuing to look at these kinds of apps to assess which ones deserve your attention. I'd like to weigh in with my favorite—Firemail, a free app that's particularly useful for those of us with ham-hands, butterfingers or both.
Firemail has three key features. To compose a new e-mail, simply launch the app and start typing. When you're ready to send, tap the action button on the left side of the screen. A window will pop up giving you the choice to send the note to Mail or save it as a bookmark. Sending to Mail will automatically launch the main e-mail app, where you can then add recipients and fire the message away.
To reply to an e-mail, hit reply in Mail and then launch Firemail, which helpfully saves your e-mail text if you need to hit the Home button or take a phone call.
Firemail's interface is clean, and its keyboard comfortable. I make mercifully fewer mistakes with it, and I do tap out my e-mails much faster now.
I do have two small quibbles and one large complaint with Firemail. First, as with just about every free app I've ever encountered, Firemail does crash randomly and without provocation, but not often. When the app has crashed, however, I've never lost my text. Second, the app really should integrate the user's contacts, instead of forcing you to add contacts after the fact in Mail.
The big problem with Firemail is a bug with its bookmarking feature. Save more than five bookmarks, and your older items get bumped off the horizontal screen. And, no, you cannot scroll. I didn't notice this at first, because I didn't use the bookmarks very much. My modus operandi when it comes to e-mail tends to be fire and forget. But bookmarks are useful for saving signatures and boilerplate messages. If you need more than five, Firemail will disappoint. I hope the developer addresses this issue in a future release, because it seems like an obvious and simple issue to correct.
That said, Firemail has become home-screen essential for me. This solid, free e-mail app's welcome landscape view will open new horizons for you.
Firemail is compatible with any iPhone or iPod touch running the iPhone 2.x software update.
[Ben Boychuk is a writer and columnist in Rialto, Calif.]