At a Glance
Expert's Rating
Pros
Accomplishes the brainstorming goal
Simple and elegant interface
Cons
Minor glitch with Arrange button
Expensive
Our Verdict
In the time it takes you to read this sentence, a new idea could spring to life. For most of us, jotting down that idea means fumbling for a pen and paper. Desktop software such as ConceptDraw MindMap Pro can help you capture the thought just as easily. Think of a good candidate for a Web design team you're assembling? Suddenly inspired to build a canoe from scratch? MindMap's open interface—really, it's just a blank page with objects for text and artwork—is like the king of idea-generation because it doesn't try to flaunt its powerful features.
The current version streamlines the familiar MindMap interface so you can find clip art, tools, and document viewing options faster and more easily. For example, there are sidebars on the left for dropping artwork onto the page, and a symbol library where you can attach icons—such as a stop sign or a thumbs-up symbol—to any object. Using MindMap is almost like running Microsoft Word 2008 ( ) in full-screen mode, but without all the palettes and menu choices, so you can focus on your idea. (You can even export files in Word-compatible Rich Text Format and use them as Word outlines.) MindMap's "blank page" concept works better than the more cluttered Zengobi Curio 5, a similar brainstorming tool.
Mimicking the brain
MindMap is designed to mimic how the brain works—we tend to create ideas by assembling bits and pieces of information into a cohesive whole, as though we're assembling a puzzle. The program features two main modes, which can be used simultaneously: one for clip art and the other for an outline. In clip art mode, you can drop objects and text onto a blank page and move them around. Say you want to create an org chart; it's easier in MindMap than in a more business-oriented, and perhaps technically superior, tool such as MindJet's MindManager Pro 7 ( ).
The second mode, outline view, allows you to write a text outline, as you would in the outline mode in a word processor. This version of MindMap also allows you to create relationships between objects and text so that they are connected as a group. For example, in an org chart, you can drop a quick text box for a department head and create related text boxes for her direct reports and other staff. Then you can link that boss to the president of the company. You can also label any artwork or text with a hyperlink, using the Hyperlink button, so that clicking on the object brings up a Web page, a new e-mail, or a file or folder. You can create multiple pages in MindMap with many of these reference point links.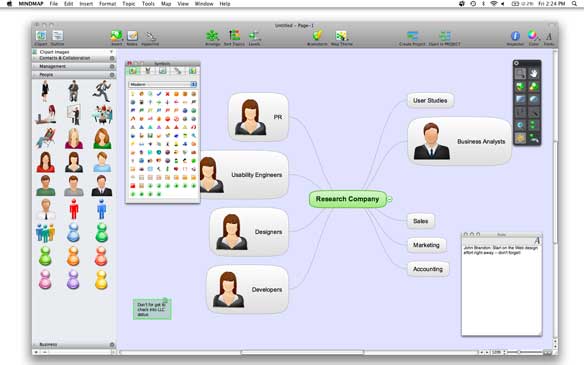 Themes in MindMap are an ultra-fast way to completely re-format an entire document in just one click. You hold down the Map Theme pop-up button at the top of the screen and select a new theme, changing the text and style of all objects. Once again, this syncs up well with the brainstorming process: you don't have to think too much about global style changes and can just get back to creating new ideas. MindMap has a freeform drawing tool that you can use to draw any object, and a bevy of alignment tools that mirror the options in Adobe Illustrator ( )—you align objects vertically, left and right, center, and at the top or bottom of the screen. This is the only slightly funky interface glitch: to arrange objects, you click and hold down on the Arrange button at the top of the screen and select the one you want. (You can also use the Inspector palette, which is much easier, but clutters up the screen.)
There's a handy Brainstorming mode in MindMap that runs in a full-screen mode with a timer–the default setting is for ten minutes. In a group, you can jot down notes, create objects, and adjust relationships. There's also a page viewer positioned at the bottom of the screen so that you can create multi-page brainstorming documents and switch quickly between them. MindMap reveals its power by supporting OML (Outline Markup Language) and XML data sharing (which means that if you update your data in a program such as Filemaker, it also updates in MindMap and vice versa), and even the ability to export outlines to an iPod (for outline notes) or iCal (for tasks and events). MindMap for the Mac also works seamlessly with its Windows counterpart.
MindMap 5.5, the version I tested, is included as part of the newly released ConceptDraw Office (now at version 1.1) for $499, or as the standalone MindMap Pro 5.5 for $199, which has the same features as MindMap 6 (part of the Office suite). MindMap never crashed or ran sluggishly on my test machine, a 17-inch MacBook Pro 2.6GHz Core 2 Duo, even with multiple pages running alongside a complex org chart with many interrelationships.
Macworld's buying advice
For me, ConceptDraw's MindMap Pro 5.5 achieved the ultimate goal: it helped with brainstorming for several new projects, including a new Web site I'm creating, and for viewing the structure of a large multi-chapter document. For $199, MindMap is worth the price because it helps you brainstorm ideas simply while avoiding the feature war with other brainstorming tools.
EDITOR'S NOTE: The article has been updated to clarify the suite version number and current price.
[John Brandon is a 20-year veteran Mac user who used to run an all-Mac graphics department.]