The following article is excerpted from MacUser.com
The threat posed to your pacemaker by your iPod may have been downplayed by no less than the Food and Drug Administration, but that doesn't mean that you can go listen to your music willy-nilly. The player itself might be harmless, but perhaps you're forgetting about that most dangerous of accessories—the headphone.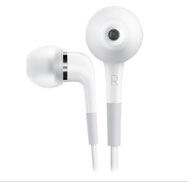 According to a researcher at the Medical Device Safety Institute at Beth Israel Medical Center in Boston, the magnets in headphones can affect pacemakers or implanted defibrillators. (Note that the risk is posed by headphones and not digital music players in general or the iPod in particular, as some inattentive headline writers would suggest.)
Before you toss out your potentially deadly heaphones, note this particular detail about the Medical Device Safety Institute report: for headphones to affect pacemakers, they need to be held very close to the device in question—namely, right over the heart. So, in other words, don't keep your earbuds in your front shirt pocket.
"I certainly don't think people should overreact to this information," [said study leader Dr. William Maisel] but it's smart to keep small electronics at least a few inches from implanted medical devices, and not let someone wearing headphones lean against your chest if you have one, he said.

"The headphone interaction applies whether or not the headphones are plugged in to the music player and whether or not the music player is on or off," he added.
So there you have it—if you've got a pair of headphones, exercise some degree of caution with where you keep your earbuds, but don't let the news put a stop to your tunes.