When civilization began, mankind documented the events of its days with pictures rather than text. Now, some 35,000 years later, the minds behind the pictorial browser Cooliris believe there's still benefit to the image as a means for relaying information. That benefit comes in the form of Cooliris' 3D Wall—a three-high, ever-expanding string of related images and videos that link to locations around the Web.
A look at the free browser plugin gives you an idea of what Cooliris is all about. After installing Cooliris, its icon appears in the Web browser on your computer. Click the Cooliris icon in that browser and you can enter a search term in the Search field and browse sites such as Flickr, Yahoo, YouTube, and Amazon.com for pictures associated with your search. For example, enter Jaguar in the Search field and choose Flickr from the Search field's drop-down menu to search Flickr for all images tagged with the word Jaguar. Or click a heading such as Entertainment News or International News without entering any search term to see timely images related to that broad subject. Navigate through the images by dragging a timeline at the bottom of the window, use your cursor to select images, or use your keyboard's arrow keys to move around the interface.
The desktop client also has a Shopping component. Click the Shopping button, enter a search term such as Feather Pillow, choose Amazon as the online retailer to search, and Cooliris displays images of all feather pillows sold by Amazon. Click one to see an enlarged picture of the item, and then click a Shopping Cart icon to be taken to the item's webpage within Amazon.
Cover Flow for Web browsers with a little Quick Look thrown in for good measure? Yep, that's the gist.
Read more …
And what's it good for? When looking at current events it's an easy way to get a general idea of what the hot events of the day are based on the number of related images you see. Cooliris is also a wonderful way to browse image-centric sites such as Flickr as the interface is beautiful and shows off images to their best advantage. And, like Cover Flow, it's a good way to browse catalogs of items as you would at many online emporiums.
The Cooliris iPhone application works similarly to the desktop client, though it's not as full-featured as it doesn't currently include a Shopping component. But its general operation is the same.
Launch Cooliris on your iPhone or iPod touch and, if connected to the Internet, your device will display a series of images from the Cooliris site. At the top of the screen you'll see Discover and Search entries.
Tap Discover and the application loads a series of channels—Entertainment News, News, Sports, Tech, and Business. Tap one of these channels and you'll see images of the day associated with that channel. For example, during the first week of November had you tapped News you would have seen lots of images of Barrack Obama and John McCain. Tap an image to enlarge it and see a caption and description of the image. Tap that caption or description, and the associated web page appears in Cooliris' WebView—no Safari required. Next to the description is an Email icon. Tap that icon, and a new, unaddressed Mail message opens with the subject line reading Check This Out and the body including a plug for Cooliris and a link to the image's host Web page.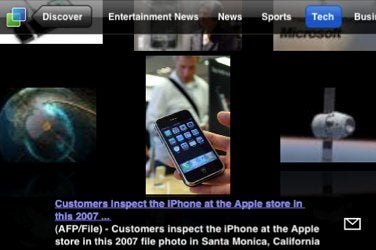 Tap Search, and a different set of channels appears—Google, Flickr, Yahoo, SmugMug, and DeviantArt. Tap a channel and a Search field appears. Tap the field, enter your query in the field with the iPhone's keyboard, and the resulting images appear, three-high, on the 3D Wall below. You move through the wall either by swiping your fingers across the display or tipping the iPhone or iPod touch to the left or right (tip to the left and the line of images scrolls backwards, tip right and you move forward through the wall). Tap an image and it enlarges and exposes the caption and description. Again, an Email icon is present and tapping the caption and description will open the host web page in WebView.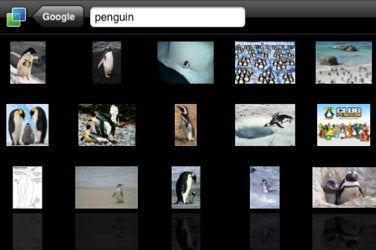 While the iPhone implementation is slick, it fails to match the desktop version in a couple of important ways. To begin with, the images on the 3D Wall on an iPhone or iPod touch screen are a little small, making it hard to discern what some images are by their thumbnails. It would be nice if you could choose a two-up configuration that makes the images a bit bigger. Also, the mobile version of Cooliris isn't as responsive as the desktop client. Thumbnails and full-sized images loaded more slowly for me than they did on my Mac. And although I'm glad that Cooliris doesn't force me into Safari to view an image but rather keeps me within the application, I'd like the option to move to Safari if I choose to—for bookmarking a page, for example.
All that said, Cooliris is a great tool for browsing Web images and an intriguing way to view shopping and news sites. It's free and worth every penny.
Cooliris is compatible with any iPhone or iPod touch running the iPhone 2.1 software update.
[Senior editor Christopher Breen is the author of iPhone Pocket Guide, third edition (2008, Peachpit Press).]