In the future, your boss will always know exactly where you are. But why wait; sign on to Loopt, recruit your boss to do the same, and you're already living in Tomorrowland. Loopt is a location-aware social networking app—it uses the GPS chip in your 3G iPhone (or more crudely, with the cell tower location data in the first generation iPhone) to place you on a map and to show you where your friends are and what they are up to. It's essentially a social network for the mobile set, allowing you to link up with friends and contacts and then mutually share location information.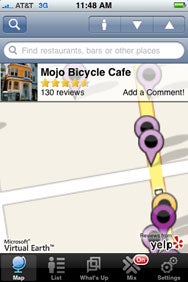 The first step getting started using Loopt is adding friends—without any friends, the app isn't much use. Loopt can scan your iPhone's address book to look for existing users, much in the same way Facebook or Twitter can scrape your Gmail contacts when you first sign up on those sites, helping you build a network with existing users. Since Loopt already supports the BlackBerry and has Android support on the way, you can even use it to link up with friends on other mobile devices.
You can also manually enter phone numbers, or add contacts from your address book to send new invitations to expand the network, but these invitees will also have to download and install the application. It's worth noting, however, that these new user invites are sent not via e-mail, but by SMS text message. Many people find this annoying and it has caused a lot of controversy. Unlike e-mail, SMS messages are charged individually, so when you invite a friend via text message, you are, in fact, costing that person money, even if it's only a few cents. Loopt claims that it is up to the new user as to who gets an SMS invitation, and that a non-user can opt out of getting any additional invites. While both claims are true, SMS invites are still not a best practice. It's not always clear to new users that they are sending out cost-based (and some would argue annoying) text messages, nor should the burden be on non-users to opt out. Loopt should end this practice and provide an option to send invitations to new users via e-mail only.
However, once you have successfully annoyed your friends into joining Loopt, the app is actually fairly useful, even in its infancy, and promises to grow more so.
The primary window is a map that shows your location, along with any of your friends who are also in your area. You can also tap the magnifying glass icon to show all the restaurants, bars, and shops around you that Loopt has in its database. You can also search for specific places or cuisines—say, sushi. Clicking on a restaurant in the list will take you to a page where you can see what your friends have said about the place or to read reviews on Yelp. You can also add a comment for friends to read later. Puzzlingly, you cannot use this map to check in at specific places (more on that later), which seems like a natural.
The second main screen displays a list of your friends, sortable by distance or name, along with their last update. Tapping on a friend's icon will take you to their profile page, where you can send them a text message, "ping" them with your location, place a phone call, or even get directions from your current location to whatever hangout your pal is haunting. This is great for getting in touch with friends out on the town and coordinating a meet-up.
Loopt's other main window is the pace where you go to check in and share your updates with friends. It has a database of user-submitted locations built into the app choose from, but also easily lets you add your own if you don't get a match. A field for comments lets you add some contextual information—you may want to note how long you'll be somewhere or provide a reason for others to come join you. You can also snap a photo, or upload one from your library, and include a link to it in your update.
Thankfully, Loopt is not a closed network like Facebook—that would make it hard to share updates with friends who aren't also using the same service. Rather, Loopt makes it easy to ensure you can pepper your pals with unexpected updates about your latest dining adventure. You can sync it with Twitter and add a Loopt app in Facebook as well, letting your broadcast your location updates and even photos well beyond the confines of the iPhone app itself.
There's also a more random social networking tool called Mix that you can add as an option for a fourth window. Rather than displaying just your contacts, Mix shows you all the other Loopt Mix users in a given area, sorted by those closest to you. It's interesting, but unless you enjoy privately messaging and meeting up with strangers in your area, it doesn't seem that useful outside of a conference setting.
Ultimately Loopt can be very useful on a Friday night, or if you've travelled to a large conference out of town and you want to figure out where everyone else is. However, for the most part during the workweek it's of limited utility. You likely already know exactly where most of your friends are at 3 p.m. on a Tuesday; they're at work.
Loopt is compatible with any iPhone running the iPhone 2.x software update.
[ Mathew Honan is a former Macworld associate editor and the author of Barack Obama Is Your New Bicycle.]