Pure Digital Technologies on Wednesday announced the release of the Flip MinoHD, which it bills as the world's smallest HD camcorder. It costs $229.99.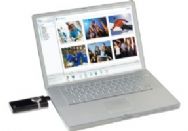 The Flip MinoHD can store up to 60 minutes of HD video. Built into the device is Flipshare software, which lets you plug the camcorder's flip-out USB arm and connect to any computer for drag-and-drop video organizing, editing and sharing via YouTube, MySpace, AOL Video or through e-mail. The software works both on Mac OS X and Windows platforms.
The Flip MinoHD weighs 3.3 ounces and measures 3.94 x 1.97 x .63 inches. It features 720p HD video recording capability, and incorporates a 1.5-inch anti-glare LCD display. The internal lithium ion battery automatically recharges when the USB arm is connected to a host computer. The Flip MinoHD sports 4GB of built-in storage capacity.
The Flip MinoHD also has 2x digital zoom, and buttons for recording, playback, fast forward, rewind, pause and delete. The camcorder includes the ability to capture still photos, and includes a cable for connecting to a television as well as a tripod mount.
In addition to the plain black chassis found at online retailers, users who visit The Flip Web site an design their own cover, or choose from thousands of existing professionally-made designs. Consumers can also share designs to earn commissions or to raise money for non-profit causes.