Seagate — under the Maxtor brand name — on Wednesday introduced the Central Axis Business Edition, a dual-drive network storage server. It's coming in November for $479.99.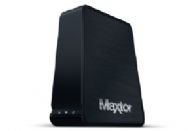 The Central Axis Business Edition features two terabytes (TB) of storage capacity using two 1TB 7200 RPM hard disk drive mechanisms with 32MB of cache buffer. The device is equipped with a Gigabit Ethernet port, and is compatible with Macs and PCs.
The Central Axis Business Edition measures 7.4 x 2.02 x 11.49 inches, and weighs 6.7 pounds. The network storage device can also operate as a Universal Plug and Play (UPnP) AV device, so it can stream media to compatible computers and devices.
An external USB port is provided that enables you to hook up an additional drive or a USB printer.
Mac system requirements call for Mac OS X 10.4.11 or later. Safari 3.1 or later is needed to set up the machine using a built-in Web-based administration interface.