A new retail initiative to get EVE Online back onto store shelves was announced during EVE Fanfest in Reykjavík, Iceland last week. CCP Games CEO Hilmar Pétursson announced plans during his keynote address.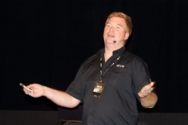 EVE Online is a massively multiplayer role playing game set in outer space. Borrowing from classics space trading and combat games like Elite and Privateer, players fly starship between bases, engaging in mining, manufacturing, trade and combat as ways of making money.
The game was first released publicly for Windows PCs in 2003. Initially EVE Online was available as a boxed game distributed through retail stores and published by Simon & Schuster Interactive. Ultimately, that effort failed; CCP Games re-acquired publishing rights to EVE Online and began distributing the game itself through a Web site download.
In 2007 EVE Online finally came to the Macintosh and Linux platforms — versions of both games can be downloaded alongside their Windows counterparts at the EVE Online Web site. Players can try out the game for free for 14 days (without requiring a credit card) before they're charged. As with many massively multiplayer online games, EVE incurs a modest up-front cost and a monthly fee in order to play.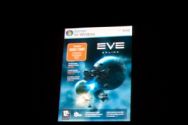 Pétursson said that EVE Online will be distributed in retail boxes on store shelves beginning in March, 2009, with the release of an as-yet unnamed expansion pack. The distribution of EVE Online to retail is being handled by Atari.
Pétursson's comments were punctuated by a short video of Atari CEO David Gardner, who noted that Atari distributes games to 50,000 stores around the world. "We want to bring the EVE universe to those stores so that customers who would not have otherwise learned about EVE will discover this exciting place," said Gardner.
Pétersson offered a slide during his presentation showing a mock-up of the EVE Online retail box featuring Microsoft's "Games for Windows" logo at the top. Company officials couldn't confirm if the Mac and Linux executables will be included as well, but CCP Games and their Mac/Linux development partner TransGaming have repeatedly stated their ongoing commitment to continue to develop and refine the Mac and Linux versions of the game.