V-Moda has introduced Vibe II earphones with a built in microphone, designed to work with the iPhone 3G and other smartphones equipped with a 3.5-mm jack, such as BlackBerry's new Bold and Storm handsets. They sell for $128 and are available for pre-order from the V-Moda Web site.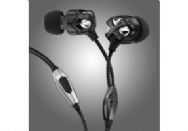 Made from a stainless steel allow, the Vibe II features a "jewelry-like" design with a woven fabric cable. The earphones are designed for in-ear use. A music control feature lets you talk then switch to listen to your music.
The Vibe II features V-Moda's trademark Bass Level Isolating Soft Silicone (BLISS) noise-isolating technology, and includes a dynamic driver which helps to produce a 3D soundstage, according to the manufacturer. The plug has a 45-degree design and is plated with 24-carat gold.
The Vibe II includes four pairs of black and clear silicone fittings and comes with earhooks if you prefer an over-the-ear fit. A carrying pouch is also included. The Vibe II comes in two colors — "nero" (black with metal accents) and "chrome rouge" (chrome with red accents).