Editor's Note: The following article is reprinted from CIO.com. Visit CIO's Macs in the Enterprise page.
Most things in life don't come for free. But the following half-dozen iPhone applications are exceptions to the rule. Each of these free downloads will greatly enhance both your iPhone and mobile Internet experiences… and the price sure is right.
I've largely focused on the BlackBerry crowd in my past free downloads stories, but today I'm offering up six of my picks for the best free software available through Apple's App Store.
This week, my recommendations include both a mobile news and sports aggregator, an on-device TV guide, a satellite mapping program, a voice over IP (VoIP) calling app and an Internet radio service. My personal favorite: the sports app, SportsTap.
Read more …
The AP Mobile News Network for iPhone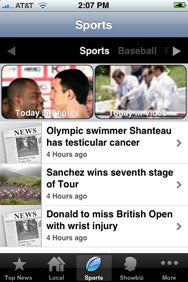 One of the most valuable iPhone features: It can instantly gather and present news and information in a format that suits your personal tastes and needs. Along with the free Associated Press (AP) Mobile News Network app, the iPhone is truly a news delivery machine.
"The most comprehensive news offering available for the iPhone," according to Apple, the AP Mobile News Network lets iPhone owners browse a variety of news types, including top news, local, U.S., tech, showbiz, sports, world and elections information from greater than 700 "trusted sources," according to the AP—many of which come along with include images or graphics.
Since AP Mobile News Network for iPhone is customizable, you can pick whatever content you want displayed on screen and hide what you don't. You can also save specific stories and share them with friends via e-mail or SMS text.
Read Macworld's Mobile News Network review
The free download is also available for BlackBerry smartphones, and the AP says it's working on a Mobile News Network app for additional devices, though no specific details are available quite yet.
Download AP Mobile News Network for iPhone (Link opens iTunes)
Fring: Free VoIP, chat for iPhone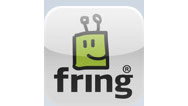 Voice over IP-based mobile calling and VoWi-Fi aren't new. And there are a variety of VoIP apps for the Apple iPhone. But a new free iPhone app called Fring offers a fresh take on mobile VoIP.
Fring lets you import contacts and buddy lists from all of the most popular IM services—including MSN Messenger, ICQ, AIM, Google Talk and Yahoo—and then place free calls to other Fring users, or Fringsters, as well as make calls via Skype, Skype-Out or the SIP provider of their choice.
Mobile VoIP software such as Fring can be particularly valuable to folks who travel internationally, or who often place calls between countries, due to the potential cost savings. Placing international calls to other Fring users or via Skype can eliminate or significantly reduce the costs associated with such communications.
Fring is also an IM application, so iPhone owners can use it to chat with their various contacts from all of the above mentioned services. And Fring also incorporates the base features of popular micro-blogging-service Twitter, so you can monitor your feeds while using the app.
(BlackBerry users interested in mobile VoIP applications will want to check out Truphone.)
Download Fring for iPhone (Link opens iTunes)
SportsTap: The free iPhone sports app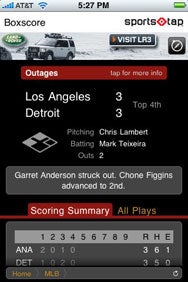 You can find countless ways to stay on top of sports scores, schedules, standings and related information, but none more simple and efficient than the free SportsTap iPhone app.
Read Macworld's scoreboard app round-up
SportsTap gives iPhone owners access to news, standings, season stats and leaders, team and TV schedules and more, for MLB, NFL, NBA, NHL, NCAA, AFL, PGA, NASCAR, Formula One, IndyCar, English Premier League, UEFA Leagues and MLS.
SportsTap is remarkably easy to navigate, making it painless to switch back and forth between sports. So you can, say, keep tabs on both the Boston Red Sox and Celtics games with just a few clicks.
And because you can view all current games for specific sports on one screen, it's easy to track all of the league games on a given day. The scores screens don't automatically refresh, but a tiny button in the bottom right corner of the display lets you quickly update pages whenever you see fit.
SportsTap also has a LocalTap function that provides information on "local" games within 50-, 100- or 200-miles of your current location.
One complaint: The app doesn't appear to have any sort of play-by-play features.
Download SportsTap for iPhone (Link opens iTunes)
i.TV for iPhone: The only TV guide you need
Most modern digital cable or satellite television offerings have their own built-in guides or menus, making channel surfing simple. That's all fine and good until you find yourself watching a television sans menu, in a hotel, at a restaurant or in a bar.
The free i.TV application for Apple iPhone works very much like your cable or satellite TV's menu channel, except it's portable and can be customized for any location in the United States or Canada. Switching TV listings/locales is as simple as typing in a new zip code and selecting the appropriate TV service, i.e., Comcast, Verizon, etc.
The free iPhone download lets you "favorite," or bookmark, shows, actors, movies and theatres for easy access to related information at a later time. And i.TV has a search function that lets you look for your favorite TV shows and content to see whenever it's showing.
i.TV could also be called i.Movie, because the free app offers lists and descriptions of all the movies playing in your area, as well as information on which local theatres are playing them and when. And it now integrates with Netflix, so customers can manage their online rental queues from inside the application.
(Unfortunately, i.TV doesn't currently have any plans to bring this great iPhone application to any other mobile devices, according to the company's website, so BlackBerry, Android and Windows Mobile users are out of luck.)
Download i.TV for iPhone (Link opens iTunes)
Google Earth for iPhone: The world in your hand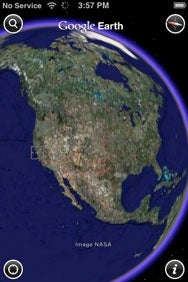 Unless you've been tucked away in some non-connected, Internet free bunker for the past couple of years, you've very likely given Google's Google Earth online mapping service a test drive… even if it was just to see what the roof on your house looks like from the heavens.
Now, thanks to the new, free Google Earth for iPhone application, the fun doesn't stop when you leave the computer.
According to iTunes, the mobile version of Google Earth provides the exact same satellite images available through the full desktop version of the service, with "high-resolution imagery for over half of the world's population and a third of the world's land masses." (It does, however, lack some of the advanced functionality found in the desktop version, including the ability to view details like street names on maps.)
The free app also employs your iPhone's built-in accelerometer, so you can tilt your device to look at mountainous terrain head-on (as opposed to from a bird's eye view.), Also, the app's Location feature can single in on your physical location in a matter of seconds—using GPS, where available.
Google Earth for iPhone also integrates with Wikipedia and Panoramio, for access to piles of geo-located articles and millions of photographs from around the globe. And it has a local search function that lets you search for nearby establishments and landmarks from wherever you are.
Download Google Earth for iPhone (Link opens iTunes)
Pandora Radio for iPhone: Customized streaming music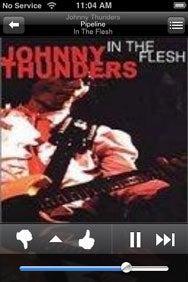 Your iPhone is very likely jam packed with all of your favorite tunes—or at least the songs you could fit. But while you may have all the classics, your current audio collection does little to help you locate and listen to new music.
That's where the free Pandora Radio for iPhone application sweeps in to help. This Internet-based radio service chooses playlists based on specific artists you're listening to at any given time. You simply sign up for a free Pandora account, log in and start entering artists' names. For each artist that you enter, a new station is created that plays music from the specified band or soloist, as well as similar music by additional artists.
So, for instance, if you enter the band "The White Stripes" and create a White Stripes station, you'll hear a variety of music from Jack and Meg White interspersed with tunes from other similar bands like Franz Ferdinand, Nirvana, Weezer, Led Zeppelin and others.
Read Macworld's review of Internet radio apps for the iPhone
While playing music, you can skip up to six songs per station per hour, and tag specific tunes with a thumbs-up or thumbs-down, to let the application know whether to serve up more similar songs or skip to new artists.
You can also bookmark songs you like for later purchase via iTunes. These bookmarked song- and artist-listings can also be e-mailed to friends directly from the app.
Download Pandora Radio for iPhone (Link opens iTunes)