While Apple has yet to start selling the iPhone in all seventy countries it announced at last June's Worldwide Developer Conference, that hasn't stopped them from trying to nail down deals in other countries.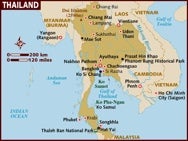 True Move, Thailand's third largest mobile operator, announced on Thursday that it had signed a deal with Apple to distribute the iPhone 3G in the country, according to Reuters. The statement did not give a date when the phone would be launched, saying only that it would be within "the coming months." Meanwhile, the country's largest provider, Advanced Info Service (AIS), told the news service that the deal was not exclusive to True Move, and that they (and the second-place operator, DTAC), were also in talks with Apple.
One of the barriers to entry in Thailand is the country's lack of a fully-deployed 3G network, meaning customers would have to rely on the slower EDGE or GPRS networks for data. In addition, like many countries where the iPhone is not legitimately available, there is a large black market for the device, with some estimates putting the number of iPhones already in the country at over 100,000.