Freeverse Software on Thursday announced the release of Burning Monkey Casino for the iPhone and iPod touch. Available for download from the App Store, the game costs $0.99.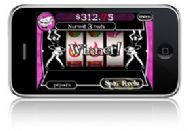 Burning Monkey Casino sports seven different casino games, including Video Poker, Slots, Blackjack, Money Wheel, Pachinko, Scratch-n-Win Lotto and 3 Card Monty. All in all, the game includes 18 varieties of video poker, nine types of slot machines and Blackjack with from one to eight decks. A lounge act and stand up comedian are also included at no extra charge.
The game touts features controls optimized for the iPhone. The Money Wheel, for example, spins with a swipe of your finger, which you can influence the Pachinko game by tilting your device. The Scratch-n-Win lottery ticket requires you to scratch off sections with your finger.