Blizzard Entertainment on Thursday released Wrath of the Lich King, the second expansion pack for its hit online role playing game World of Warcraft. It's available in both regular and Collector's Editions and costs $39.99 and $69.99 respectively.
Wrath of the Lich King adds new features onto the perennial favorite, such as a new Hero class called the Death Knight, a new continent for higher-level players called Northrend, expanded Player vs. Player (PvP) options, new dungeons and raids, improvements to graphics, new monsters and other creatures, and a new profession called Inscription. Players can now get haircuts in barbershops and reach new achievements and rewards.
World of Warcraft takes players to the world of Azeroth, a fantasy land populated by humans, Orcs, Night Elves, Dwarves, Gnomes and other races. Roughly aligned into Alliance and Horde factions, each group vies for power and influence. Players create characters from each of the game's playable races with specific character classes and professions to complement their abilities; they then go off into the world to complete quests, participate in raids and other activities with other players, and join guilds if they choose, allying themselves with other players.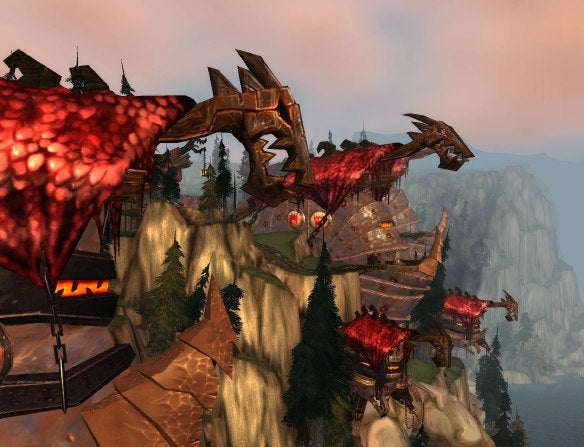 Wrath of the Lich King continues World of Warcraft's story, which first unfolded in the series of popular "Warcraft" real time strategy games. Five years after Arthas allied himself with Ner'zhul, and the Lich King has risen in the frozen wastes of Northrend.
Both the regular and Collector's Edition packages include Mac and Windows files. The Collector's Edition adds exclusives like an art book, an in-game pet (Frosty, the baby frost wyrm), a behind-the-scenes DVD, a soundtrack CD, a mouse pad and two World of Warcraft Trading Card Game March of the Legion starter decks, along with two exclusive cards only included with the Collector's Edition.
Wrath of the Lich King requires the original World of Warcraft to play. System requirements have changed; they now call for a G5/1.6GHz or Intel Core Duo processor; 1GB RAM, 3D graphics processor with hardware transform and lighting with 64MB VRAM or more (such as an ATI Radeon 9600 or Nvidia GeForce Ti 4600 or better).