Recently I presented the steps for hacking an Apple TV so that it could use boxee (yes, that's small-b-boxee), the open-source media center application that allows that Apple TV to stream content from such sources as Comedy Central, Hulu, BBC, Last.fm, SHOUTcast, Flickr, and PicasaWeb to an Apple TV or computer. But what of boxee itself and its implementation on the Mac? That's for today.
The big idea
The giant minds behind boxee describe it as a social media center. Using boxee you can play unprotected videos and music and view images that are stored on your computer's hard drive or on devices on your local area network. Additionally, you can enjoy content from Internet sources such as Hulu, SHOUTcase, and Flickr. The "social" component is the friends you add (and who add you). Friends can see what they're watching and listening to, with the idea that if your buddy Marty had the good sense to watch the latest episode of The Daily Show on Comedy Central, maybe you should too.
boxee is based on XBMC, an open-source media player with versions available for Mac, Linux, Windows, and Xbox.
Getting
In order to use boxee, you need an invite. And you can get that invite in one of two ways. You can visit boxee and sign up for an invitation. As of today, that invitation will be slow in coming as there are loads of people who'd like access to boxee and the service is weeding through endless requests. The other way is to find someone who has a boxee account and ask them for an invitation. Currently, there's no limit to the number of people someone with an active account can invite.
Once you have that invitation you can download the boxee application. Versions are available for the Mac, Windows, and Linux.
Navigating
boxee is designed with TVs and their remotes in mind. Although the Mac boxee application works perfectly well with a mouse and keyboard, you can be forgiven if you instead use an Apple Remote if one came with your iMac or laptop, or use the keyboard's arrow, Return, and Escape keys to navigate around the interface. It lends itself to that kind of control.
The interface bears seven entries along the left side—Video, Music, Pictures, Profile, Downloads, Settings, and Exit. The local temperature and time are displayed in the bottom left corner.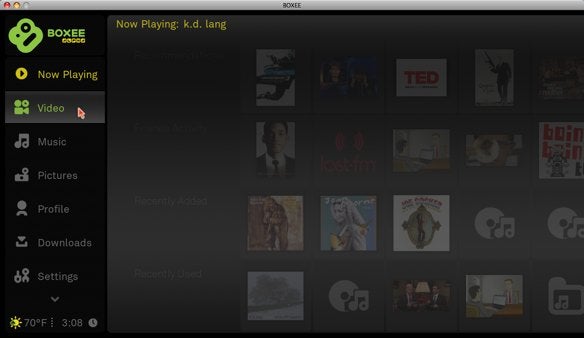 When you select Video you'll see options for Movies, TV Shows, Internet, and Sources. Select Movies and you'll see movies you access locally—either on your hard drive or local network. TV shows, same idea. Select Internet and you have access to streaming content via CBS, CNN, Comedy Central, Hulu, Movie Trailers, RSS feeds you've added, MySpaceTV, Next New Networks,. On Networks, Public Torrents, Revision3, and YouTube.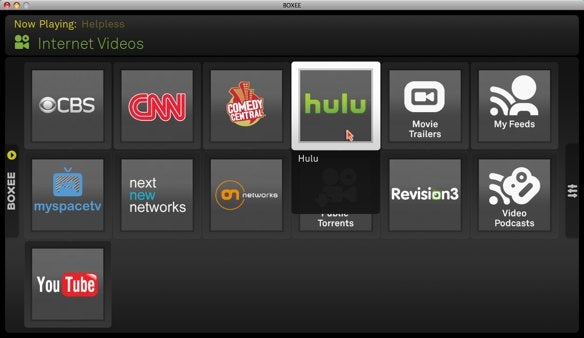 Sources is where you add locations that you've stored media. For example, if your iTunes library is stored on an external drive, you'll want to add that source so that boxee can find it.
The Music entry works similarly. You can view local music by artist or album. Select Internet and you can get audio content via BBC, Jamendo, Last.fm, RSS feed, or SHOUTcast.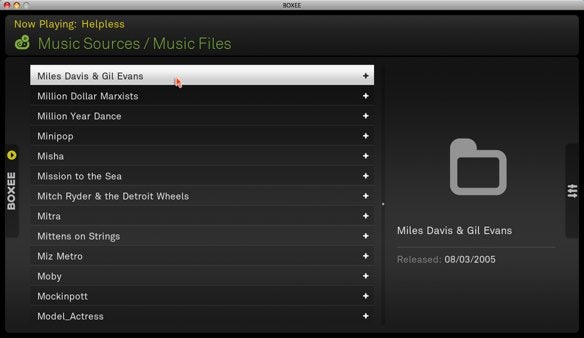 The Pictures entry can take you to local images as well as images stored on Flickr and Picasa.
Why it's cool
iTunes is a terrific media player, but it's limited to certain types of media and it's unwilling to stream the majority of media on the Internet. boxee is far more accepting of different media types and is happy to incorporate any kind of Internet media it can lay its hands on.
boxee and your TV go together like dill and pickle. This makes it a natural for an Apple TV. But it also makes adding a Mac mini to your home entertainment system even more tempting. If you've felt hampered by Hulu's insistence that you watch its content on your computer screen, boxee mixed with a TV makes a lot or sense, regardless of how you do it.
The social networking component also makes a lot of sense. While viewing or listening to content you have the option to rate it with a simple "Love it!" or "Nah…" as well as recommend it to all or a selection of your friends. Presumably you trust your friends' taste as they trust yours, making this a great way to discover new media.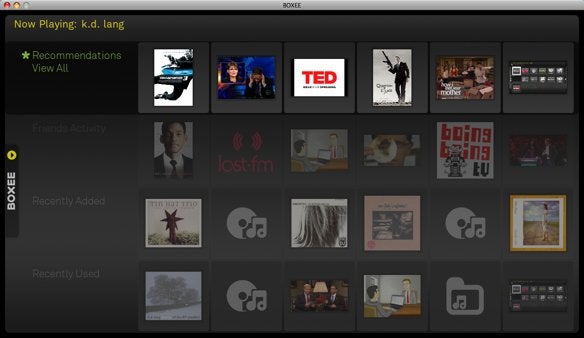 And, finally, it's good for viewers as well as content providers. Those networks frustrated that viewers zip through advertising with their DVR's controls may feel a little better that there's no way to do that with the short commercials embedded in a lot of Internet streaming content. And because these advertisements are so short, viewers aren't going to kick too much about having to sit through them, particularly when they have access to entire seasons of quality programming for free.