At a Glance
Expert's Rating
Pros
Support for images in mind maps
Flexible import and export options
Search capability
Impressive feature set
Free download
Cons
Software hangs frequently on launch
Unappealing interface
Counterintuitive keyboard shortcuts
Our Verdict
Looking for a mind mapping application that packs a powerful punch, takes it easy on your wallet, and is a dream to use, even for a novice? FreeMind 0.8.1 will get you two-thirds of the way there.
Java-based and open source, FreeMind is not going to win any beauty contests. FreeMind's own FAQ puts it best: "Mac OS X users usually have higher expectations when it comes to usability and UI consistency, so they might become frustrated by the lack of compliance to their user interface guidelines." Thankfully, what it lacks in looks, it makes up in ability—especially when you consider that other fully featured programs like Mindjet MindManager ( ) fetch $129.
One thing that makes FreeMind especially handy for note-taking: as you create nodes—the idea nugget building blocks of mind mapping—the program automatically arranges and tidies up your node placement within your screen real estate, so you'll never have to worry about nodes inadvertently overlapping, as they might in a program like MindNode. On the other hand, FreeMind doesn't give you much freedom to rearrange and format your mind map, so it's a bit of a tradeoff.
If you're a mind-mapping beginner, plan for some warm-up time with the program before getting any real work done. Every mind map will start with a root node. Hit the tab key to create a child node. Or select a child node and hit the return key to create a sibling node. Knowing these two shortcuts will help you begin to move pretty quickly.
Sometimes you'll want to graphically tie nodes together without creating a hierarchical relationship between them. To create a graphic link between nodes, hold down shift-control and then drag between nodes. FreeMind provides a variety of ways to graphically highlight a node, including adding icons or colored cloud shapes.
FreeMind also offers preliminary support for PNG, JPEG, and GIF images in your mind maps. The feature worked well with small images, but don't plan on resizing a large JPEG within FreeMind. Also note that a node can contain either text or an image, not both. The easiest way around this is to make either the picture or the text a child node to the other.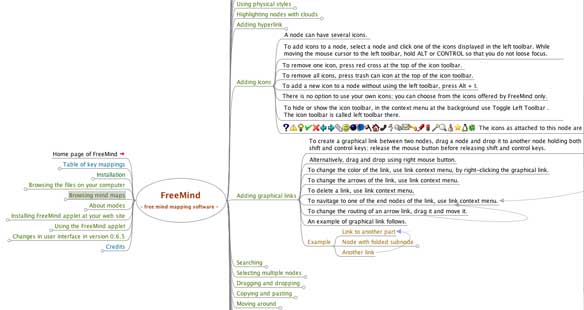 The key advantage for me of electronic mind maps over their hard copy equivalents is searchability. Without search functionality, it can be difficult to find the one key phone number or contact name buried within a massive mind map. FreeMind enables you to search within a node and in all of its descendant nodes. To search your entire mind map, simply select the top-level root node before searching.
FreeMind boasts a number of export and import options, which give you some flexibility. In addition to exporting to HTML and XML formats, FreeMind can import your existing MindManager mind maps. FreeMind also offers a "freemind browser" applet that lets people browse your mind maps on your Web site—whether or not they have the FreeMind software installed.
Though I did not experience any crashes with FreeMind, I did encounter very frequent and frustrating hangs on the welcome screen when I launched the application. FreeMind hopes to correct this Mac-specific, Java-related issue in a future update.
Macworld's buying advice
FreeMind 0.8.1 may not deliver the user experience and interface you've come to expect on your Mac, but it does offer an abundance of features and capabilities at a price no one can argue with—absolutely free. If you're a function-over-form type, FreeMind may be right for you. But if you find the application less than intuitive and want something simpler, check out a more user-friendly, no-cost mind mapping app like MindNode.
[Tim Haddock is a freelance writer based in Vermont.]