ezGear on Friday announced the ezBling, a new case for the fourth-generation iPod nano. It costs $19.99.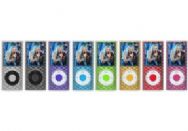 ezBling is made of a soft material that gives the iPod nano a "crystal-like" appearance, according to ezGear. The inside of the case has a diamond pattern to create a unique look.
A panel in the back is used for installation and a thin static screen protector is included to keep the screen from being scratched.
The ezBling also provides access to the iPod nano's ports and the Click Wheel, so you can continue to dock the device and use other accessories.