Nova media on Friday introduced the GlobeSurfer III, a wireless router for the Macintosh that leverages connections through mobile networks. It costs €285 (US$362.62).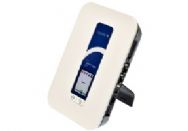 Instead of a conventional network router, which uses a hardline such as a cable modem, DSL or FIOS connection to connect to the Internet, the GlobeSurfer III lets Macs and PCs connect using a mobile data network. It supports 3G speeds and works with HSPA, operating at up to 7.2 Megabits per second download and up to 5.7 Mbps upload.
The router supports WEP, WPA and WPA2 security, and sports receiver technology that maximizes download and upload speeds even on the borders of network coverage.
The router also incorporates standard phone functions: A telephone jack lets you plug in an analog phone, which you can use to send and receive phone calls. You can also view, issue, and answer text messages using a browser.
System requirements call for Mac OS X 10.3.9 or later.