Aspyr Media, the popular Mac game publisher behind titles like Call of Duty 4 and Guitar Hero Aerosmith, have stepped into the iPhone arena. Their first game is called Buggled and it's now available for purchase from the App Store for $1.99.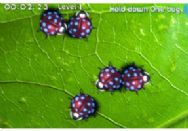 In Buggled, ladybugs are attempting to escape your fingers, and you've got to keep them trapped. You have to keep your fingers on the ladybugs to keep them trapped.
Features include multi-touch support, challenge progression, support for two player play on the same screen, and unique visuals and sound.
Buggled runs on an iPhone or iPod touch running iPhone 2.0 software.