When I first gave MobileMe a spin months ago, I synced my Address Book contacts to the cloud. Recently, I wanted to clear those contacts from MobileMe. You might think this would be easy to do. You'd be wrong. After trying several dead-ends, I ultimately tripped over what is almost certainly a bug in Apple's MobileMe software. I did come up with a work-around for the bug, but it's a bit ugly.
Yes, you can delete all contacts directly from the MobileMe Web app, via commands in its Action menu. However, doing this risks having the contacts also deleted from your Mac on the next sync (although you should get a Sync Alert warning before any harm is done).
That's why the preferred approach is to delete the contacts by modifying MobileMe's settings on your Mac. In my first attempt, I unchecked the Contacts item in the MobileMe System Preferences pane and clicked Sync. Nice try, but no cigar. Doing this succeeded in disabling further syncing of contacts, but the contacts already present in MobileMe remained intact.
Undeterred, I clicked the Advanced button in MobileMe's System Preferences pane and selected to "Reset Sync Data…" From the sheet that dropped down (pictured below), I opted to do a unilateral sync from my Mac to the cloud. As contacts were no longer being synced, I thought this might result in the contacts being removed from MobileMe. Wrong again.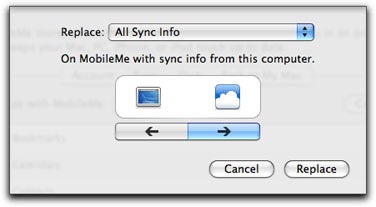 For my third try, I returned to the Advanced sheet and selected to Unregister my Mac. After doing so and clicking Done, another sheet dropped down. This one directly asked if I "would like to delete unused sync info from MobileMe." I selected Contacts and clicked Delete. I was certain this would work. Except that it didn't. The contacts were infuriatingly still there in MobileMe.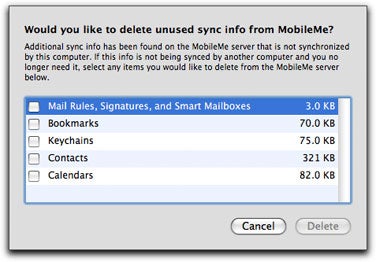 Three strikes, and I was out!
I can only assume this is a bug in Apple's MobileMe software, affecting at least some if not all users. Hopefully, Apple will fix this soon. In the meantime, if this happens to you, try the following steps. They finally wiped the contacts from my MobileMe cloud:
Launch Address Book and select File -> Export -> Address Book Archive.
Click Save to create an archive copy of your contacts.
Delete all your contacts from Address Book.
Quit Address Book and go to the MobileMe System Preferences pane.
If you have previously disabled syncing of contacts, re-enable the option. Set it to sync manually for now.
Click Advanced.
If you have previously unregistered your computer, reregister it. Ideally, also make sure no other computers are registered at this time.
Click Reset Sync Data.
From the sheet that appears, select Contacts from the Replace pop-up menu.
Click the arrow buttons to select a unidirectional sync from your Mac to MobileMe.
Click Replace and wait a few minutes for the sync to complete.
At this point, log in at www.me.com (if you are already logged in, log out and back in again) and check your Contacts list. It should be empty at last!
There's now a small bit of clean-up left to do to get everything back to normal:
Return to the MobileMe System Preferences and uncheck Contacts. This prevents the items from returning to MobileMe on your next sync. You can now also switch the Sync frequency from Manually to whatever other option you prefer.
If you previously had more than one computer registered in MobileMe, re-register the additional ones.
Return to Address Book and select File -> Import -> Address Book Archive and import the archive you previously exported.