Audiobooks have become increasingly popular as devices such as the iPod, iPhone, and iPad have become commonplace. While it's great to listen to music while commuting or exercising, you can use some of that time to listen to your favorite author or the latest non-fiction best-seller. You can download digital audiobooks from the iTunes Store or Audible, but you can also buy audiobooks on CD and add them to your iTunes library yourself. If you do the latter, you need to rip them, and use special strategies to manage and enjoy the resulting files. Here's how to best deal with those CDs.
Ripping audiobook CDs
If you buy your own CDs, ripping audiobooks is simple, but you'll likely want to do so differently from the way you rip music. You won't want to use the same import settings, because spoken word recordings don't need the same audio quality as music.
Settings Before you rip the first CD, go to iTunes > Preferences in iTunes 10, click on the General tab, then click on Import Settings. If you're only planning to listen to the audiobook on an iPod or in iTunes, choose AAC Encoder from the Import Using pop-menu. (If you want to use the files with other players or software, choose MP3 for better compatibility.)
You can choose from two types of settings. The first way is the simplest: from the Setting pop-up menu, choose Spoken Podcast. This contains most of the settings I'll mention below. However, since most audiobooks are recorded in stereo, these settings have iTunes rip in stereo, which generally isn't necessary—ripping in mono will take up half the disk space as stereo. (Make sure to note the settings you were using before you make these changes, so you can revert to your original settings for music when you've finished ripping your audiobook.)
If you want to use more detailed settings, choose Custom from the Setting pop-up menu; you'll see settings for Stereo Bit Rate, Sample Rate, and Channels. For bit rate, choose 64 kbps; voice needs only a small amount of data to sound good. Leave the sample rate at Auto, and, from the Channels menu, choose either Stereo or Mono. For most books, Mono is fine; I only use Stereo for "full-cast productions," such as plays, where several performers are spread across the soundscape. (Note that the above settings give you 32-kbps mono files; 64 kbps is the stereo bit rate; when you choose Mono, that bit rate is halved.)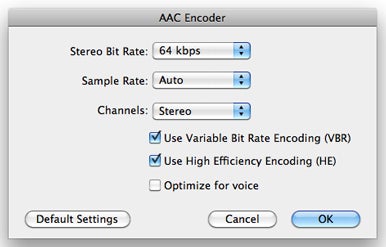 To get the most out of your encoding, select the Optimize For Voice and Use High Efficiency Encoding (HE) checkboxes. The former limits the frequency ranges used to those needed for voices, and the latter provides better encoding at low bit rates. (HE encoding doesn't work on older iPods; if you have an older device, try with one file to see if it works before encoding a whole book.) Then click on OK, then on OK again twice to save your changes.
Ripping Most audiobooks range from about five to a dozen discs, and each disc is generally split up into many files. There are two ways you can import your audiobooks depending on whether you want one file per disc, or a lot of files. The former makes it a bit easier to keep track of the files but the latter can make it easier to spot chapter and section breaks. If you want to join all the files on a disc, select all its files, then choose Advanced > Join CD Tracks.
Whether or not you join tracks, the next thing you need to do is tag your files. Select all the tracks on the CD, then press Command-I; this brings up the Info window for multiple items. The easiest way to tag audiobooks is to put the author's name in the Artist field and the book's title in the Album field. Set the genre to Audiobook or Spoken Word, and, if the disc number doesn't show up, add it; otherwise your files will be out of order after you've ripped all your discs.
One important thing to do: click on the Options tab, then, from the Remember Position pop-up menu, choose Yes. Click OK to save this information—this will let your iPod or iTunes keep your place when listening to a long file.
Next, click on the Import CD button at the bottom right of the iTunes window. Do so for each disc and, when you're done, look for the "album" in your library; it will contain all the files you have just imported, in the proper order. (Some audiobooks are sold on as MP3 CDs, with the files already encoded for digital devices. If you have a book like that, create a new playlist and drag all the files from the disc in the Finder into that playlist. You can then tag the files.)
[Tip: If you happen to have Roxio's Toast 10 Titanium, you can also use it to rip multiple-CD audiobooks into single, bookmarkable files that will also work in iTunes and on your devices.]
Listening to your Audiobooks
Now that you've gotten your audiobooks into iTunes, there are two easy ways you can play them back. If you've joined the tracks, you might as well put them into your Books library. Select all the tracks, press Command-I, then click on the Options tab. From the Media Kind drop-down menu, choose Audiobook, then click on OK. You'll then find the files in the Books library in iTunes, and, on your iOS device, under the Audiobooks menu.
But there's also a way you can use a smart playlist to listen to an audiobook; this is the best way to listen if you have lots of files and haven't joined the tracks of each disc, but it works fine with joined tracks too. Instead of choosing the book from the Books library, you'll find it in the Playlists section of iTunes and your iOS device when you're done.
First, you need to set some options for these files. Select them all, press Command-I, then click the Options tab. Enable Remember Position and Skip When Shuffling. The former means that whenever you stop listening, iTunes or your iOS device will remember where you stopped. The second prevents these files from popping up when you shuffle songs on an iOS device, or with iTunes DJ in iTunes. (When you set the files to the Audiobooks media kind, these two options are set automatically.)
Now, create a smart playlist, and enter the author's name in the field after Artist Contains. Then click on the plus (+) icon to the right of the Artist field, choose Album from the first pop-up menu of the new line that displays, and enter the name of the book in this field. Click on the + icon again, and choose Plays Is 0. Make sure the Live Updating box is checked, then click on OK.
The reason for the Plays line is that after you listen to a file, its count will increase to 1, and it'll be removed from the smart playlist. This will continue until you get to the end of the book.
You will probably want to name the playlist with the name of the book. If you have a very long book, and don't want to sync all of its files, you can limit how many files the playlist contains from the Limit To option in your smart playlist: choose a number of files or hours and make sure you choose to have them selected by album so they stay in the right order.
Since you'll have tagged all the files with the author's name and the book's title, and you'll have numbered the discs, the files will all show up in your smart playlist in order. To listen to this book, sync the smart playlist with your iOS deice, then choose the book's playlist. Each time you start listening, you'll begin with the next file to be played that you haven't yet listened to. In addition, since you've set the files to remember their position, any time you stop listening, your iOS device will remember where you left off, even if it's in the middle of a file. You can still see where you are in the book by the numbers or names of the files, something you can't see as well when you have single files for each disc. In many cases, when you rip the CD, iTunes will find names for the files, and in some cases chapter names or titles, and you'll be able to see this information if you look at your iPod as you listen.
With these techniques you can make listening to audiobooks on your iPod as easy as listening to music. You no longer have an excuse for missing the latest best-seller, and your commute or morning exercise might be a little more interesting.
[Senior contributor Kirk McElhearn writes about more than just Macs on his blog Kirkville. Twitter: @mcelhearn Kirk's latest book is Take Control of iTunes 10: The FAQ.]