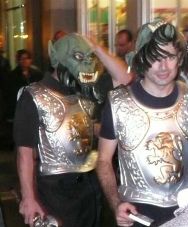 Why were all of these people lined up outside a GameStop on Powell Street in San Francisco on an unusually balmy November night? What would possess people to wait hours in line to enter a store about the size of a shoebox? Why was the person next to me drinking from a goblet and talking about walrus men?
Blizzard, that big tent of computer gaming, was unveiling its latest attempt at gobbling up your remaining time and friends: The Wrath of the Lich King expansion pack for World of Warcraft ( ). I've been to launch parties before, but you'd be hard pressed to find a more diverse group of gamers than you'd find on this night. Lawyers, kids, businessmen, teenagers, and frat brothers alike are all here. World of Warcraft fans are just like you or me, except for the fake plastic elf ears.
Inside the store was the usual collection of booths and tables, from Rockstar drinks to large cardboard cutouts of Mr. Freeze himself, the Lich King. I noticed a stage setup in the back for the later dance competition and I headed to the press corner to score some expensive cheese and crackers. Snow cones and blue cotton candy were also served, which I guess went with the whole "frozen throne" theme. Though now I envision Northrend as a wintry paradise full of reindeer and misfit toys.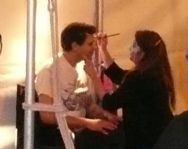 I headed back outside. The line is already extended around the block, and it resembles a strange circus. There are clowns in Orc masks hired by the PR company to promote the event, makeup artists painting faces into some kind of strange cross between Kiss and Cirque du Soleil, and even more exotic: the occasional female. Yes, it's a pretty male-heavy crowd but that's to be expected from these events.
Equipped with my detached air of superiority and the bitterness that can only come with covering Mac gaming, I entered the fray to interview my fellow MMO fans. The first person to catch my eye was a sultry blond woman dressed in a rather revealing full blood elf priestess costume. It came as no surprise later when I surveyed the crowd about their embarrassing attractions to game characters, the Elven priestess won nearly unanimously.
I talked to a couple of guys in the twenties who explained to me they both had level 70 characters and had been playing the game for several years now. The time spent in game was measured in weeks, not hours for them. That kind of time commitment may turn off some who fear that they'll lose other time spent working or socializing with friends. A girl dressed as a gnome explained to me that she actually made a lot of friendships through the game. You acquire friends and seeing them is as much a part of the game as anything else. Now that there are 25-person raid groups available, it's like being able to invite that many more people to your party without having to clean up afterwards.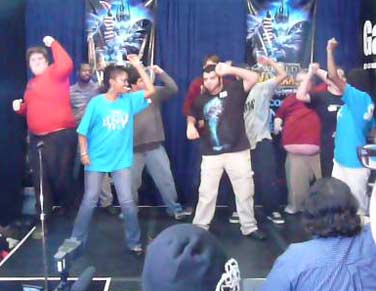 Inside, dedicated fans of the series had the opportunity to strut their stuff on stage for a dance competition. The developers of Warcraft, ever the jokesters, had modeled many of the characters' dances on pop-culture icons. I witnessed gamers imitating video game characters who were in turn imitating pop-culture icons that had riffed on a popular trend. Despite the layers of culture complexity in watching such a dance, there is something inherently captivating about seeing the grace of twelve gamers flail around on stage, like witnessing a cubist painting of wolverines on acid.
Not everyone was so united in the revelry. Old rivalries boiled beneath the surface. I watched two guys have an argument about the number of jerks who played for the Alliance or for the Horde, respectively. Eventually they agreed that the Alliance had more morons. I was taken aback by the comprise; I felt as though I had just witnessed the signing of the Treaty of Versaille.
After taking in more than my fair share of revelry and free victuals from the press table, I decided to leave. The party would still rage for a few more hours until the game would actually be sold at the store, and that dark beast of deadlines was calling my name. I also knew that before I finished writing this article, someone would have reached the new level cap.
I was left with a newfound respect for the culture and community that has surrounded World of Warcraft, and how, for all its silliness, it's reassuring that gamers are becoming more open and active in their enthusiasm. I'll take the men dressed in full armor, the conversations about "noobs" and the long-lines at a GameStop because that means the industry is alive and well. While contemplating all of this, I went back and hit on that Blood Elf priestess. If you're reading this, please call me.
[Chris Holt is a Macworld assistant editor. Photos by Darren Gladstone of PC World.]