At a Glance
Expert's Rating
Pros
Easy to set up
Very good network speeds
Cons
Expensive set-up
Software utility is Windows only
Our Verdict
Before I dive into the review of MacWireless's 200 Mbps Powerline Network Adapter, I need to clarify something about the device. Despite the company's name, the Powerline is not a wireless network device in any way, shape, or form. It requires wires—electrical wires, to be specific. The Powerline uses the electrical wiring in your home to provide network access from room to room. It's a nice alternative to Wi-Fi or a wired Ethernet network, and it works well for tasks like sharing printers, transferring and sharing files between computers, and playing networked games, among other things.
The setup for the Powerline couldn't be simpler, but it's not cheap. First, you need at least a pair of Powerlines; they're sold individually, so expect to pay $200 for a pair. You plug a Powerline into a power outlet near your network router (which is connected to your broadband modem). Then you plug an Ethernet cable into the Powerline on one end, and into your router on the other end. (I connected the Powerline to a NetGear WPN824 RangeMax ($80) router, which was connected to my cable modem.) The Powerline's indicator lights tell you when a connection is active.
The next step is to go to the room where you want network access, and plug another Powerline into an available power outlet. (I plugged the Powerline into an outlet in a home office where my Wi-Fi signal doesn't reach.) Connect an Ethernet cable between your Mac and the Powerline, wait a few seconds for your Mac to recognize the Ethernet connection, and that's it. This setup worked flawlessly; I spent more time moving heavy furniture than I did setting up the Powerline.
I also tested the Powerline in my home office with a four-port, 10 Mbps network hub in order to connect multiple devices. I connected the Ethernet cable from the Powerline to the hub, and then connected a MacBook Pro and a Dell laptop via Ethernet into the hub. Both laptops were able to access the network and Internet; but, as I expected, the hub was the speed bottleneck, and network access was noticeably slower than with a single MacBook Pro directly connected to the Powerline.
After testing with the hub, I disconnected it and I then tested the Powerline with Apple's AirPort Express ( ). I plugged the AirPort Express into one power outlet and the Powerline into the other outlet. I then connected an Ethernet cable from the Powerline to the AirPort Express. (In case you're keeping score, here's the AirPort Express testing set up in my home office: 1) The AirPort Express is supposed to provide wireless network connectivity; 2) the AirPort Express is connected via Ethernet to a Powerline adapter; 3) the Powerline in my office is connected via electrical wires to another Powerline in my living room; 4) the Powerline in the living room is connected to a router, which is connected to a cable modem. Whew.)
To be honest, I didn't expect the above scenario to work—and it didn't, at first. But after I spent a few minutes adjusting the AirPort Express settings, my MacBook Pro was able to connect to the wireless network, and I had Internet access. I was pleasantly surprised.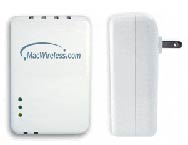 To gauge the Powerline performance, I did some informal speed tests using Speedtest.net, a Web site that calculates the upload and download speed from your computer to a remote server. Using a Wi-Fi connection on my MacBook Pro, I averaged download speeds of 14,293.4 Kbps, and upload speeds of 1,493.8 Kbps. When I ran the Speedtest.net tests on my MacBook Pro using Powerline (directly, not with the hub or AirPort Express), the download speeds nearly doubled, averaging 26,849 Kbps. Upload speeds went up a bit, too, averaging 1,539.8 Kbps.
MacWireless says that the Powerline will work in any house that uses copper wiring. MacWireless also says that the Powerline network signal can pass through circuit breakers, but that the power outlets on either end of a connection must be on the same circuit box. There's a limit of 16 Powerline devices on a network, and a distance limit of 980 feet.
By default, network traffic sent between Powerline devices is encrypted, but that leads to the one major knock against the Powerline: the software utility is Windows only, and you need to use the software if you want to reconfigure the security settings. MacWireless says that Mac software is in the works, but no ship date has been set.
There are also a few minor issues you'll have to cope with. The Powerline is rather big, measuring 3.75 by 2.5 by 1.13 inches, so you need to make sure you have enough room around the power outlet you want to use. The adapters also get very warm; not hot enough to burn, but you get about the same amount of heat produced by a MacBook Pro. It's probably a good idea to allow some airflow around the Powerline.
Macworld's buying advice
At $100 for a single device, the Powerline Network Adapter may not be the most price-effective way to extend a home network. Remember, you need to buy at least two Powerlines, so your starting price is really $200—and you can buy a Wi-Fi repeater for less than $100. But in homes where there's a lot of wireless interference, or where there's a long distance between your router and a desired area for Internet access, power line networking can be effective. The Powerline is a no-nonsense device that, unlike many other types of network devices, just works.
[Roman Loyola is a Macworld senior editor. ]