Livescribe has announced the public beta release of Livescribe Desktop for Mac, software that accompanies its Pulse "smartpen" device. Version 1.0 of the software is anticipated for a release in the first calendar quarter of 2009.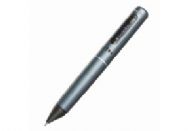 The Pulse smartpen lets you take notes accompanied by audio recordings of what's happening; useful if your dictation is slow or if you've missed an important part of a lecture or presentation. The smartpen itself combines an embedded camera and speaker and "links" the notes you've taken with the segments of audio you've recorded. Special paper available from Livescribe enables you to control playback speed and other features of the device.
Livescribe Desktop for Mac provides similar functionality to its Windows counterpart, enabling Pulse smartpen users to upload notes and audio recordings, play them back, search for words and browse through digital copies of their notes.
Commensurate with the open beta version of the Mac software, Livescribe has also revealed new features and functionality of the Pulse smartpen, such as the ability to print dot paper notepads for free and handwriting to text recognition software. The handwriting to text feature is coming to the Windows software in late November.
The open beta of the Mac software is available for all current and new users of Pulse smartpens.
The Pulse smartpen is available in 1GB and 2GB versions for $149 and $199 respectively.