Incase on Monday introduced the Power Slider, a new case designed for the iPhone 3G. It costs $99.95. It's coming this holiday season, and will be available at the online Apple Store and Apple retail stores.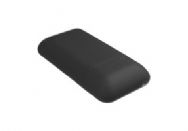 The Power Slider features an internal battery that can more than double the battery life of an iPhone 3G, according to Incase. It sports a custom-designed lithium-ion polymer battery that provides continuous charge to the iPhone's own battery. When in use, the Power Slider's battery drains first before the iPhone's battery is touched.
The Power Slider integrates a five-light LED battery status indicator; it also shows sync mode and charging status. A custom USB cable is included that enables you to charge and sync data with your computer. It's also compatible with any USB charging ports that provide 5 volts of power at 1 amp output.
The Power Slider is also a functional iPhone case, featuring hard-shell protection. It's an adaptation of Incase's Slider case, equipped with a "soft-touch" coating to improve grip.
Incase rates the Power Slider as providing up to 330 additional hours of standby time for the iPhone, up to 26 hours of additional audio playback, up to 5 hours of additional talk time on a 3G network (10 on a 2G network), up to 7 hours more video playback, and up to 5 hours more Internet use.