River Studio Design has introduced InchCalc, a new calculator for the iPhone and iPod touch. It's available for purchase and download from the App Store, in an entry level version and a pro version, for $1.99 and $6.99 respectively.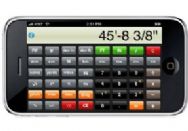 Designed for contractors, builders, architects, designers, engineers and others, InchCalc is designed for people who work with common tape measures and rulers. It uses feet, inches and fractions units like tape measures, then calculates and displays the answers in those units. You can also use it as a conversion calculator between Imperial and Metric length units.
The basic version provides a series of functions and features; the pro version adds advanced functions, automatic right triangle calculations, easy conversions to other measurement units, selective keyboard orientation, dual portrait and landscape modes, and advanced clearing functions.