Aspyr Media, which debuted its first iPhone game last week with the introduction of Buggled, now available from the App Store, has offered a peek at its upcoming roster of iPhone and iPod touch games and toys.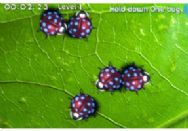 Buggled, available for $1.99, tasks you with keeping ladybugs in place on a leaf. The game uses the iPhone and iPod touch's multi-touch capabilities to work, and features animation of ladybugs that fly and flutter across rendered leaves in an attempt to escape.
Also coming are three more games. Voodude is described as a "toy," where you can take a friend's — or enemy's — picture and turn it into a ragdoll physics voodoo doll, poking, prodding, flinging, slapping and generally tormenting them.
FriendZoo is an app that turns each name in your Contacts list into an illustration of an animal in a zoo exhibit. The most popular attractions are your most frequently talked-to friends.
Penguin Slider (that's a working title) is a variation on the marble-based Labyrinth maze game, featuring cute penguin art and animation; penguins slide around on the ice and you must guide the right penguin to its fishing hole.
Prices and release dates were not specified; Aspyr said it would offer more details as they become available.