TLA Systems' has announced the release of an update to PCalc, one of the first third-party calculator apps ( ) and one that has its roots in a longtime Mac calculator of the same name. The update, version 1.2, is available now from Apple's App Store.
PCalc is a full-featured scientific calculator that offers all the functions of the iPhone's built-in calculator, plus many more, including hexadecimal, octal and binary modes, extensive unit conversions and constants, a paper tape, and multiple undo and redo. It also offers configurable themes, so you can make your calculator look like a colorful plastic toy, a serious metallic engineering tool, or something in between.
Among the new features in this version are two new calculator themes and an optional two-line display for users who are fond of Reverse Polish notation (RPN).
There's more of a story here than just the release of a new version of an iPhone calculator, though. Through his Three Letter Acronym blog, PCalc developer James Thomson gives readers a glimpse into the inner workings of an iPhone developer.
Read more…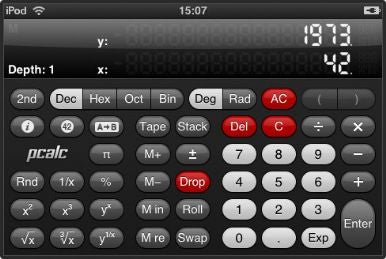 For example, recently Thomson explained that he felt he needed to change how his app's name displays in the App Store from simply "PCalc" to "PCalc RPN Calculator" in order to improve his ranking on search results. He also described how iPhone developers can use an "availability trick" to improve their placement in App Store listings.
Most interesting is probably Thomson's PCalc 1.1 Post-Mortem, which details how releasing a major update to his iPhone app didn't—unlike most Mac updates—result in many new sales. It's an interesting deconstruction of what went wrong by someone who's out there on a new frontier, trying to figure out the rules of the iPhone app economy.
Or maybe it was just his clever way of making us feel so sorry for him that we'd cover the next PCalc update that came along. If so, well played, sir. Well played.
[Updated 11/17, 3:45 p.m. to correct the differences between PCalc and iPhone's built-in Calculator.