Each autumn for the past five years, CCP Games has hosted a fanfest to celebrate its massively multiplayer game, EVE Online. The company is based in Iceland, so it hosts the event in its home city of Reykjavík, capital of the country and home for most of the country's population. I've been to Fanfest twice—I chronicled the event last year in this very blog—and with each visit, I love Iceland more.
So this installment of the Game Room blog is less about EVE Online and its fanfest—developers showed off the game running premium graphics and announced plans to bring the game to retail shelves next March—and more about what I saw and did on this year's trip to Reykjavík and beyond. If you're an EVE Online player, maybe this will inspire you to take the trip next autumn.
Read more…
Getting to Iceland
Flying to Iceland is a simple affair—Icelandair is the national airline, and it offers direct flights from several North American cities including my home city of Boston. It's a relatively short flight—a little less than five hours flying west to east, which is less time than it would take me to get to Los Angeles. Recently Icelandair upgraded its air fleet with improved touch-screen in-flight entertainment systems in the seatbacks, so I didn't need to rely on my iPod's cache of classic movies to get me through the flight. I was able to play some games, watch some episodes of the Simpsons and even burned through part of a James Bond movie before we landed.
Flights land in Keflavík, which is about an hour's drive southwest of Reykjavík. Keflavík offers a large, comfortable and modern airport filled with duty free shops and connecting flights that bring passengers between North America and much of northern Europe.
The kronur and the dollar
Right now Iceland is in the grip of the recession that's hit much of the world, and Iceland has been hit harder than most. The Icelandic government recently had to nationalize Glitnir, the nation's third largest bank, in an attempt to stabilize the economy. Those issues are being keenly felt by the local populace, which is being hit hard. But the news, perversely, is good for tourists from countries with stronger economies than Iceland's—including the United States.
Last year at this time, my American dollar was worth about 55 Icelandic kronur. This year, my dollar was worth more than twice that, though inflation hadn't driven up prices that much. Last year, everything from buying a restaurant meal to getting a soda at a convenience store was absurdly expensive; this year, it's more reasonable, though still a tad pricey—not surprising, for an island nation that must import almost everything that it uses.
Reykjavík proper is home to more than 118,000 people, but many more live in its immediate vicinity—more than 200,000, all told, the majority of the entire nation's population, in fact, live within 50 km of the city. It's located on a peninsula that extends into Faxaflól Bay, on Iceland's southwest coast. Iceland, and Reykjavík, in particular, isn't as cold as one might expect, thanks to the Gulf Stream, which winds its way up from warmer Atlantic climes to the south.
Reykjavík is a very cosmopolitan city with a strong European flavor, and lots of great restaurants and shops. I spent a lot of time last week on Laugevegur, one of the main drags of Reykjavík, where many locals go to see and be seen in the evening. It's also home to (and a short stumble from) many of Reykjavík's nightclubs.
Even before the recession hit, buying alcohol in restaurants and clubs was expensive in Iceland. A draft beer, for example, routinely costs more than 800 ISK—about $3.50 today, but $7 when I visited last year; mixed drinks and hard liquor can be half again to twice that, depending on where they're being served. So many Icelanders prefer to stay home on Fridays and Saturdays and drink there, up until 11 p.m. or midnight, when they finally begin to emerge for a pub crawl downtown. And there they'll stay, often until the bars and clubs close, at 6 a.m. The rest of the week, bars close at 1 a.m.
Reykjavík—Party capital of the North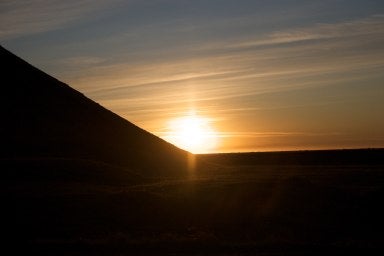 Located as Reykjavík is at the 64th Parallel, it's the world's most northern national capital. This is particularly apparent this time of year, when the days grow short—the sun didn't rise until about 9:30 a.m. and never got more than about one-third of the way into the sky before it began setting again. By 4:30 p.m. or so, it was dark. Conversely, during the high summer, it can be 2 a.m., and it still looks like late afternoon or dusk, according to some of my colleagues who have experienced the effect.
Iceland observes Greenwich Mean Time (GMT), aligning its clocks with London, which is a several-hours-long plane trip to the east. The area has been settled since 874, when, according to legend, Norwegian chieftain Ingólfur Anarson followed two carved pillars he threw overboard from his boat until they landed. He named the place Reykjavík, which means Bay of Smoke—a reference to the rich geothermal activity in the area.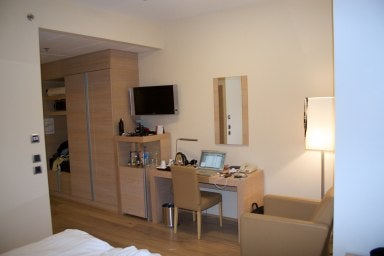 I stayed at the Grand Hotel Reykjavík, located near the EVE Fanfest venue, a large indoor sports arena known as Laugardalshöll. While the hotel started life as a modest Holiday Inn, it's now the biggest hotel in Reykjavík, with a 14-story addition and rooms that look like they dropped out of an Ikea catalog. Getting to downtown Reykjavík required a five or ten-minute cab ride, depending on location.
The city is getting better about filtering its geothermally heated water, so there's no longer a rotten-eggs smell when you run the bath or the shower. I particularly appreciated the high toilets, apparently scaled for someone of Nordic stature—my shorter friends complained, repeatedly, about needing footstools to reach them, but I found the thrones to be perfectly comfortable.
Nightlife in Reykjavík runs the gamut from glamorous, trendy and incredibly Eurocentric (filled with beautiful people wearing expensive tailored clothes) to homey American-style sports bars and English/Irish pubs. I spent most of my time in the latter, and grew quite fond of the local lager, called Viking.
I was also initiated into the world of Brennivín—one of Iceland's signature alcoholic beverage. Translated as "burning wine," Brennivín is schnapps, made from potatoes and flavored with caraway seeds. Best served ice cold, Brennivín's nickname is "svarti dauthi" ("Black Death") because of its black label (supposedly put there to warn people away from consuming it). Many Icelanders (and wiser foreigners) do not drink it; alas, I can lay no such claim to wisdom.
Reykjavík sports numerous coffee shops and plentiful ATMs, lots of places to snack and people-watch, museums, theaters and other distractions. And the language barrier was non-existent. Everyone with whom I spoke, even out in the country, spoke English fluently.
More than once during my stay, my friends and I found our way to Nonnabiti, a sandwich shop on nearby Hafnarstræti. Known to its acolytes as "Nonni's," it's something of a local legend ("best drunk food in Iceland!" proclaimed one cab driver proudly), and if you ever go, I'd strongly recommend trying either the beef and cheese or the lambabatur (the lamb sub). Both are excellent and relatively inexpensive. Service was friendly and efficient.
By the way, tipping is a relatively recent and still infrequent phenomenon in the country. In most of the restaurants I visited, there was no place on the check to write a gratuity and no mention of it on the menu, and most waitstaff don't expect it. It is becoming more common especially in spots frequented by tourists—I saw a number of tip jars in some of the bars I frequented while I was there.
At least I thought they were tip jars. After a couple of slugs of Brennivín, well, I couldn't be sure of anything.
What did I just eat?
If you're a vegan, you might find Iceland a bit tough going; the local diet depends on a lot of meat and dairy products. And no part of the animal goes wasted, it seems. A tour guide I sent the day with told me a story of leading a tour party of vegetarians the week before and being asked to sit elsewhere at lunch, as he was eating meat from a smoked sheep's head, cut straight from the bone.
Without question, though, the greatest epicurean adventure one can have in Iceland is to sample hákarl (typically served on cubes with toothpicks, like an artisinal cheese). It's basking shark that's been cured and hung to dry for half a year, and it has a pungent, ammonia rich smell that I can only describe as somewhere between tuna casserole that's been left out in the August sun and dank New York City alleyway.
Eating hákarl requires a very strong stomach, which explains why its consumption is one of those rituals that Icelanders put poor foreigners through on their way to earning their stripes as honorary Vikings.
Many Icelanders do not eat hákarl, I've discovered, though it's readily available in stores. Despite this anecdotal evidence to the contrary, I remain convinced that hákarl is simply a prank Icelanders play on foreigners to see who will put disgusting things in their mouths.
I won't abuse you with any graphics descriptions of some of the other Þorramatur (Thorramatur, a winter feast) delicacies, I've discovered, like súrsathir hrútspungar (check Wikipedia if you really must know).
In Thor's Forest
While last year's Fanfest afforded me little opportunity to sightsee, this year wasn't the same. I was able to get outside Reykjavík and tour a bit of the countryside, ending up in Þórsmörk—Thorsmork, or Thor's Forest, a valley about two hours' drive away from Reykjavík that's named after Thor, the Norse god of thunder. To get there, you follow Route 1—a ring road that runs around the circumference of Iceland. Our guide, Luli, told me that to do it properly you needed at least a week, though you could easily double that by diverting off to side roads and coastal routes.
Iceland is an incredibly geologically active environment, as it sits atop the Mid-Atlantic Ridge, where the continents of North and South America are pulling away from the Eurasian and African continents bit by bit. Iceland is at the forefront of harnessing geothermal energy—Reykjavík was recently voted the greenest city on Earth, despite having a less-than-adequate public transportation system and a dependency on privately-owned cars. More than once on our trip, we were subject to the side effect of such unusual geological activity in wafting, invisible clouds of sulfur-tinged steam, heavy with the stench of rotten eggs.
We passed through Iceland's farm region and past the town of Hverageroi, known for its greenhouse vegetables. Hverageroi is also known for its hot springs, and has for years been a spot where people go to bathe in naturally warm, mineral-rich springs. We also passed within site of Hekla, Iceland's most active volcano. The volcano stands almost 1,500 meters high and is due for another eruption any day now, according to our tour guide.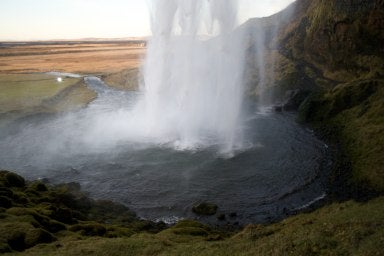 One of the first sites you see when you reach the valley of Thorsmork is Seljalandsfoss, one of Iceland's most famous and beautiful waterfalls. If you're a fan of the television show The Amazing Race, you may recognize this—it was seen in Season Six. The waterfall comes from the river Seljalandsá, which empties about 60 meters above the pool below. A trail leads behind the falls, and when you get mid-way, you're overwhelmed by the deep bass resonance made by the water as it plunges into the pool below. One of my tour mates likened it to nature's version of a rave.
Thorsmork is a huge valley bisected by the river Krossa, and our guides—driving full-sized Nissan Patrol 4x4s with oversized tires and, in some cases, snorkels for air intakes, navigated it with ease. You could also tell they were having a great bit of fun—they'd often ford deep glacial streams, finding unique paths, then double back and see if their colleagues could do better. Having said that, there was a rough trail cut through the river valley, though it was nothing navigable by any vehicle with anything less than full-time four-wheel drive.
Thorsmork is surrounded on two sides by glaciers—Tindfjallajökull and Eyjafjallajökull, and the river cuts between mountains. As a result, the weather in Thorsmork can be very mild even when there are vicious winds whipping around elsewhere—it's a very gentle valley with some of the best farming in the country, according to Luli.
After we'd bumped and jostled our way over Krossá, which was largely dried up this time of year as its waters are trapped back in the glaciers that feed it, we got out and walked a trail to the river Markarfljot. That trail took us up a couple of relatively steep inclines—a few of us had to stop and catch our breath. Mountain streams and brooks frequently bisected the trail, but there were plenty of wooden footbridges to help us pass (a few of them had suffered a bit of damage and wear, however).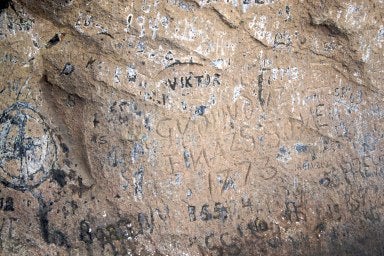 As we descended down a steep wooden staircase winding down the side of the trail, we stopped to admire some graffiti carved into the soft rock. Some of it dated back to the 18th century, if the carving is to be believed.
Once we descended into Markarfljot Valley, we caught up with our tour guides, who had rounded the lowlands in their vehicles. And waiting for us on the sideboards of one of the Nissan vehicles was some freshly chilled Brennivín, which never tasted better.
Driving back from Thorsmork, Luli noted that Iceland is suffering the effects of global warming, and its glaciers are receding at an alarming rate. Iceland's glaciers are very dynamic, and often recede and grow independent of short-term climate changes, however. That can create some challenging terrain on which to hike and navigate vehicles.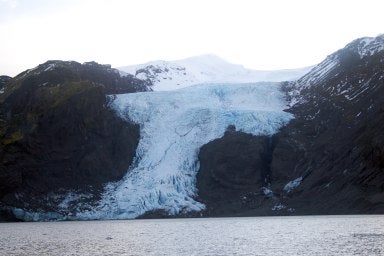 Luli explained that Iceland itself has dramatically different geological regions. Much of the landscape we saw was unbroken plain, not dissimilar to the American Midwest, though much wetter. It's no wonder, then, that that's where much of the nation's dairy cattle and sheep are raised, and where grain is grown. It doesn't take long to find hot springs, glaciers, mountains, active volcanoes, and waterfalls, however.
Iceland is a land of natural beauty and wonder, with a capital sporting some of the liveliest nightlife in all of Europe. My advice is to book a trip if you get a chance.