LaCie on Monday announced the release of the LaCinema Rugged, a USB 2.0 hard disk drive equipped with a High Definition Multimedia Interface (HDMI) connector. It's priced starting at $199.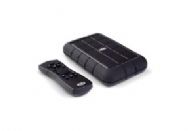 Compatible with Macs and PCs, the LaCinema Rugged sports an aluminum shell and internal anti-shock absorbers, along with a shock-resistant rubber bumper. It comes in 250GB, 320GB and 500GB capacities.
Data transferred to the drive is visible on any display. Equipped with an HDMI interface, you can connect the drive directly to a high-definition TV display, or you can connect to other TVs using a composite video connection. The drive manages 1080i upscaling itself. It also includes a wireless remote control, and is equipped with analog stereo and optical audio connections.
The drive is capable of playing back MP3, WMA, AC3, Ogg Vorbis and Windows AAC audio formats; MPEG-1, MPEG-2 and MPEG-4 video codecs, and JPEG, GIF, PNG and BMP digital image formats.