As soon as I gave Google's updated Google Mobile app for the iPhone (iTunes link) a trial run today, the first thing that struck me was how well Google had implemented the new voice recognition feature, both in terms of its user interface and in how well it worked.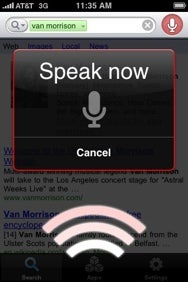 In case you haven't tried it out yet—and you should because it's just cool—the app automatically kicks off the voice recognition as soon as you bring the iPhone up to your ear (with the app running, of course). You then speak into the phone and remove it from your ear; the app recognizes what you said with great accuracy and immediately pulls up the search results.
It works really well. And that's why I'm surprised that the first time we're seeing this is in an application by Google and not as a feature built into the phone itself.
As a touchscreen-driven device without any physical keyboard and a minimum of hardware controls, one of the major problems with the iPhone is that it's almost completely inoperable without looking at the screen. And because it doesn't have voice recognition, it's even more difficult to use.
But if Google can impelment voice-control, why not Apple? How about this: If you bring the phone up to your ear while you're on the home screen and a call isn't in progress, it should immediately activate voice recognition and dial the contact or number you speak into it.
When the earphones are plugged in, a prolonged press and hold on the tiny remote could do the same thing, making it even easier to dial someone's number while you're driving—without causing an accident. The last ingrdient woud be for all Bluetooth headsets that support voice recognition to work with the iPhone too, thus rounding out a complete voice-dialing system on the iPhone.
The lack of voice dialing is among the most egregious missing features on a lengthy list for the iPhone. We can deal with the little extra typing it takes to get around the lack of copy-paste features or get a Flip Mino if we want to shoot videos. But the iPhone is first and foremost a phone—look, it's in the name—and any phone worth its salt ought to be able to let you dial a number without having to look at the screen. If Google can get it right, I'm sure so can Apple.