At a Glance
Expert's Rating
Pros
Easy gameplay
Custom rules
Four variations of Scrabble
Cons
No support for network play
Our Verdict
Scrabble Plus is the latest in a long line of digital versions of the wordy board game, pleasantly priced so that it costs quite a bit less than the real thing. Scrabble Plus has extra features that you won't get from the "analog" version of the game. For example, you can play Battle Scrabble, a variation of the game that requires two boards and two bags of letters—when playing Scrabble digitally, you don't need to purchase a second Scrabble set or have a friend to bring a Scrabble set.
The real test of a Scrabble game, though, is how well the basic game plays, and in Scrabble Plus it plays very well, indeed. The board looks brilliant, and is most likely an improvement over the tatty cardboard one sitting on your bookshelf. There are faux wooden tiles and a brightly coloured background. Rules can be customized so you can allow hints, dictionary use, and exclude curse words. The game engine automatically enforces the rules you've chosen—that's the real appeal of any virtual Scrabble game. It lets you concentrate on playing, instead of scoring or looking up rules to make sure a word is valid.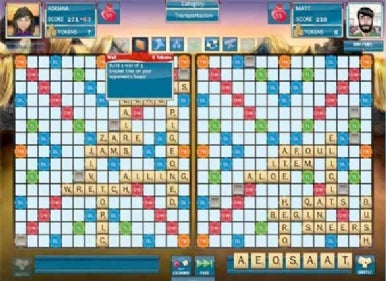 Playing against the computer is great fun, with eight difficulty levels from novice to genius, but Scrabble's best when played with a friend. Here, gameplay differs slightly from the real game. You only get to see your next set of tiles when your partner has played a turn. This means you don't get to plan your move during your opponent's turn. You spend time during your actual turn strategizing, and when you are waiting for your opponent to figure out a move, you may find yourself quite bored as you wait your turn. (You could also be sneaky and make a note of their tiles if you're a dirty cheater.)
There are three other variations available in the game: two dual board games in Battle and Wizard Scrabble, and a rather pointless Golf version.
A one-hour trial of Scrabble Plus is free. Subscriptions are also available, starting at $6 per game for 12 games a year. Or it's $20 for a one-time purchase.
Macworld's buying advice
Scrabble fanatics will enjoy Scrabble Plus. If anything, it'll at least save some wear and tear on your actual Scrabble set.
[ Karl Hodge is a freelance contributor.]