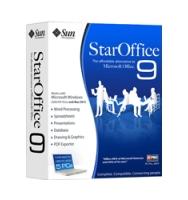 At some point, most of you have probably attempted to evade the Microsoft hegemony by rolling with some non-Redmond alternative, like OpenOffice, iWork, AbiWord or, if you're really hardcore, Nisus Writer. (Or if you're really really hardcore, emacs or vi.)
For the low low price of a Jackson, Hamilton and a Lincoln ($35), you can now get the native, full-fledged version of StarOffice 9 for the Mac. Earlier this year, the beta was available–and Derik told us that the price would be $70. Now that StarOffice is half that much, you'd be a fool not to try it.
StarOffice, of course, is based on the same source code as OpenOffice–which is free–but hey, if you still want it, go ahead and grab it here.
If you give it a spin, let us know how it goes.