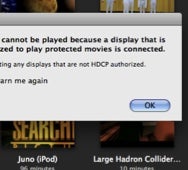 Our pals over at Infinite Loop and Engadget are reporting that while Apple's new laptops might have snazzy Mini DisplayPorts, some iTunes content is all sewn up in High-bandwidth Digital Content Protection (HDCP) ridiculousness—a new version of DRM for video that requires all devices in the chain of video transmission to be authorized to play back content. In other words, if you want hook up a projector or an older monitor to your new machine in order to watch certain iTunes content, you're going to get the above error message. The solution? You'll need an HDCP-compliant display.
Apparently this has been brewing on the Apple discussion boards for a few weeks now, with one poster reporting on October 26:
Just got a new MacBook last week and finally found a mini Display Port -> VGA adapter so i could use my 19" external display. I rented a movie from the iTunes store yesterday and when I tried to play it on my external display, it gave me a warning/error that the display was 'not an authorized HDCP display' and it would not play. Plays fine on the small MacBook screen, just nothing external. To make it even worse, i tried all the movies that I have purchased from the iTunes store with the same result… NONE of them will play on anything but the MacBook's small 13" screen. This is crazy unacceptable.
Word.