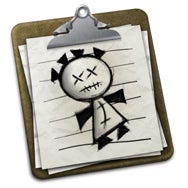 Personally, we have been terrified of voodoo ever since we watched that scene with the snake in Live and Let Die. But that hasn't prevented our undying love of personal wiki app VoodooPad. Our good friend Gus Mueller over at Flying Meat has just released the most recent major update to the application, bringing it to version 4.0.
What can you find in this quaternary version? Plenty. Tops among the list is the ability to synchronize your VoodooPad pages between multip le computers, through the use of either MobileMe or your own personal WebDAV server. You can even create an iPhone compatible web interface for browsing your pages on the go. That's not all, either: VP4 sports a single-palette interface designed to reduce clutter, gives you more control over your typography, and the ability to encrypt pages with sensitive data (VoodooPad Pro lets you encrypt your whole document, if you prefer). I think my favorite new feature, however, is the "Bucket." Hit a hotkey when Voodoo Pad is running (even if it's in the background), and it'll pop up a little window where you can paste in some text and add it to any open VoodooPad document.
You've got your choice of which version to try out too: the free VoodooPad Lite, the everyday VoodooPad ($30; upgrade $15), or the souped-up VoodooPad Pro ($50; upgrade $20). And if you purchased a version of VoodooPad 3 after August 1st, you can snag the 4.0 update gratis.