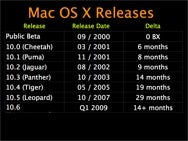 You probably don't know Jordan Hubbard. Heck, before about an hour or two ago, we couldn't have told you if he was a B-movie actor from the 1920s or the barista at our local coffee shop. Now, however, we can say with reasonable certainty that he's the Director of the UNIX Technology Group at Apple.
Why, you're wondering, is that so great?
Well, last Thursday, Hubbard spoke at LISA '08 (don't get excited, it's not a conference for aficionados of the Apple Lisa, but rather for Large Installation System Administration). Hubbard's talk, Mac OS X: From the Server Room to Your Pocket (PDF link), discussed the evolution of Mac OS X technologies, such as security, over the lifetime of the OS, with special attention to—blah, blah, blah. That's not why you're here.
One table from Hubbard's presentation slides grabbed some attention: a list of Mac OS X releases. Which, ordinarily would be pretty boring, except for the fact that he lists the release date for 10.6 Snow Leopard as Q1 2009. zOMG!!1!!! Somebody alert the media—wait, we are the media?
Ahem.
Okay, look. Apple's press release for Snow Leopard was issued in June of last year, at which point they said 10.6 was "scheduled to ship in about a year." Apple's Q1 2009 runs from January to March 2009, which means a potential jump up of a couple months. Good news, but nothing to get worked up about. And don't come crying to us if it doesn't surface until June. For all we know, this could be a clever disinformation plan by Steve Jobs to root out leaks, using a George Kaplanesque "Jordan Hubbard" who will mysteriously never be heard from again.
[via MacRumors]